TurboCAD® Mac Designer 2D delivers easy to use 2D drafting and design tools typically found in professional level CAD programs. Created with the simple user interface every Mac user demands, TurboCAD Mac makes it easy to produce anything from simple sketches to production ready drawings.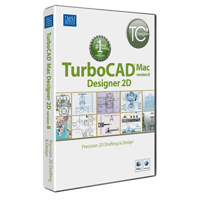 Precision 2D Drafting and Design Made Easy
Intuitive Design and Editing Tools
Simplified Home Design
Easy File Sharing
---
Key Features
Complete Set of 2D Drafting Tools
TurboCAD Mac offers a large selection of 2D tools, so that no matter the situation you've got access to the right tool for the job. Included you'll find line, arc and curve tools. Plus access circle, ellipse, polygon, and spline tools, including the freehand spline and fair spline tools that offer greater control. You will also find power text and dimensioning tools, fillet and chamfer tools, as well as 2D modifier and transformation tools.

Drafting Assistant & Snaps
The Drafting Assistant thinks like a drafter. It automatically knows where construction lines are typically wanted and displays them temporarily when necessary. Combine with snaps to quickly locate x, y coordinates, tangents and perpendiculars, and you'll be able to quickly layout floorplans, diagrams and more.

Simplified Home Design
Use the drafting assistant to quickly layout a floor plan, or choose from one of the 500 included pre-drawn plans. Speed architectural design with parametric doors and windows, self-healing walls, and many architectural design tools that simplify home design.

500 Floor Plans
Start from scratch or choose from any one of these pre-designed floor plans you can customize to make each one your own.

Over 7,000 2D symbols and parts
Choose from thousands of parts and symbols to effortlessly add to your design including electrical, mechanical, bathroom, kitchen, construction, LAN, CMOS, doors, windows, counters, fasteners, HVAC and more. Use the symbols browser to quickly locate just what you need, enhanced with symbol filenames.

Advanced Editing
Select an object and easily change the geometry in the Edit Objects window. All values appear as whole numbers or decimals and can be entered in any units desired

Layers and Layer Sets
Use layers to organize your design and create layer sets, making it easy to visually turn on and off appropriate visual aspects of a model for easier editing. The number of layer sets is virtually unlimited, layers can be assigned to as many sets as necessary, and sets can be recursively nested.

Complete File Compatible & Conversion Options
Easily import your graphic designs files into TurboCAD and turn them into precision CAD drawings with dimensions. Just as easily, you can export technical drawings from TurboCAD into desktop publishing formats, perfect for use in brochures and all other marketing materials.
Import or export from these popular formats: AutoCAD® DWG/DXF, JPEG, Adobe® EPS (export only), Adobe® Illustrator, BMP, PICT, Spline (import only), TEXT, and Claris CAD (import only)
You can also use TurboCAD's powerful batch conversion tool to convert single images or groups of images to other file formats.

Printing & PDF
Use Model to Sheet to create page layouts to view and print your design with up to 4 different angles on a single page. Additionally, TurboCAD Mac offer control over text size, dimension text size, and more. Users can also save designs as single or multi-page PDFs in standard or custom sizes for sending via email.

---
New Features
64-Bit Compatible
Enhanced Printing
Improved Deep Select
New Customizable Grids
Improved Space Mouse Support
Improved Keyboard Shortcuts
Improved DWG/DXF Support for AutoCAD 2013
and More
---
TurboCAD Mac Designer 2D v8 Requirements
Macintosh® OS X 10.7.x (Lion) , 10.8.x (Mountain Lion), 10.9.x (Mavericks) and 10.10.x (Yosemite) , Intel® Mac®, 4 GB of hard disk space, 1 GB RAM or greater, Mouse Pointing Device (wheel button recommended).
TurboCAD Mac v8 supports Apple's 64 bit architecture.

---
TurboCAD Mac Designer 2D v8 Testimonials
Leave a Comment