TurboCAD Pro Platinum is a premium, professional computer-aided design package. It includes all the speed and technology of TurboCAD Pro for 2D/3D drafting, detailing, modeling, rendering, and extensive file sharing. TurboCAD Pro Platinum also provides advanced tools for mechanical design, simple BIM and suite of architectural tools that are AutoCAD® Architecture compatible, and much more for greater control and flexibility.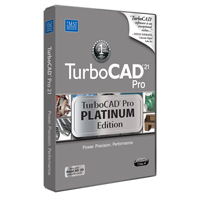 Advanced Architectural Tools like parametric architectural objects
Advanced Mechanical Tools including more powerful 3D modeling
More Powerful Part Tree acts like a selective Undo/Redo
Advanced Constraint Tools including midpoint and pattern constraints
Associative Arrays / Pattern Tools to apply and control parametrically
UV Mapping to create more realistic renders
Outstanding File Compatibility including new IFC export for BIM
---
Key Features
Advanced Architectural Design & Simple BIM
TurboCAD Pro Platinum speeds design with an extensive collection of parametric object types and shapes for walls and compound walls, doors, windows, stairs, railings, roofs, and slabs.

Advanced Mechanical Design Tools
TurboCAD Pro Platinum offers advanced tools for 3D solid and surface modeling. The thread tool, twisted extrude, extrude to face, imprint tool, parametric holes, imprint and more enable the easy creation of your more complicated professional designs.

Advanced Modification Tools
TurboCAD Pro Platinum includes a number of tools that enhance 3D modification for facet editing, lofting, bending and unbending of objects. These tools become even more powerful when combined with the Advanced Part Tree.

Advanced Part Tree
TurboCAD Pro Platinum greatly expands o n the Part Tree technology in TurboCAD Pro. Often referred to as history-based editing, the Part Tree can be used as a selective UNDO/REDO tool.

Smooth Surface Mesh 3D Modeling Tools
TurboCAD Pro Platinum allows you to use existing 3D modeling tools to create a smooth surface mesh (smesh).

---
New Features
New Drafting and Detailing
Rendering & UV Mapping
Interoperability Improved
---
TurboCAD Pro 21 Platinum Edition Requirements
TurboCAD Pro Platinum is delivered in a 64-bit version to take full advantage of your hardware's available computer memory to load, process, and render CAD files. A 32-bit version is also available if required by your hardware.
64-bit System Requirements:
Microsoft Windows ® 8* 64-bit, Windows 7 (64-bit), Vista (64-bit) – 2 GB RAM.
32-bit System Requirements:
Microsoft Windows ® 8*, Windows 7, Windows Vista**, Windows XP** – 1GB RAM.
*TurboCAD 21 is designed for desktops or laptops that meet the indicated system requirements. Windows RT technology for use on tablets is not supported.
** 32-bit version of TurboCAD 20 Pro will run on XP and Vista platforms; however, these platforms are no longer being officially supported.
Recommended:
Your experience with TurboCAD 21 Pro Platinum will be greatly enhanced with a newer generation, higher speed CPU, 4+ GB RAM, and larger display resolution and graphics support.
The optional GPU-accelerated Redsdk render modes require a supported graphic processing unit (either a chip on the board, or on a video card). The latest video drivers are typically required. Newer boards with more power and VRAM generally provide greater performance.
---
TurboCAD Pro 21 Platinum Edition Testimonials
Leave a Comment