New CAD Features
BobCAD-CAM now offers an option to set your views based on the UCS that you're using. Using the view options is always a huge help. Hopping quickly into your top, front, and isometric views goes a long way to help you get a clear picture of the design direction, and even the machining direction you should be going in during your jobs. However, when you start working on different coordinate systems, those views start to confuse a little more than they help. With our new Views to Active UCS option, simply click the

icon in the status bar, and all the views display in relation to the currently coordinate system you're working in!
View to Active UCS: Off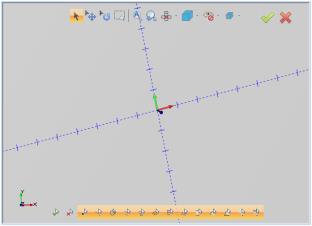 View to Active UCS: Off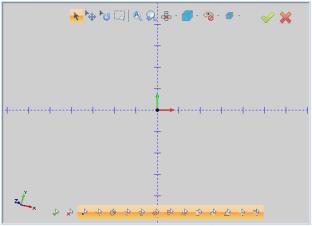 View to Active UCS: Off
When working in a User Coordinate System (UCS) that is askew from the World Coordinate System (WCS), moving into a top view sets the view based on the WCS. Notice how the WCS gnomon in the lower left of the graphics area is oriented in the top view, while our UCS axis and gnomon remain askew.
View to Active UCS: On
With the View to Active UCS toggle on, the view is based on the UCS. Notice how the WCS gnomon in the lower left of the graphics area is askew, while our UCS axis and gnomon are oriented in the top view.
For the first time ever, BobCAD-CAM now offers a way to quickly rotate and translate geometry into a particular location and orientation at the same time. Occasionally, when you bring a part into BobCAD it can be located in what may look like an odd place and orientation. In many cases this is because it was a part of an assembly, in which its seemingly odd placement would make sense. Whatever the reason for its orientation, if you did want to move it and rotate it, having to figure out the angles to rotate in which axes can be tricky. Now, with the new Align to Coordinate System function, you can quickly define the coordinate system of the part(s) to be moved, define the coordinate system you want it to move to, and you're done!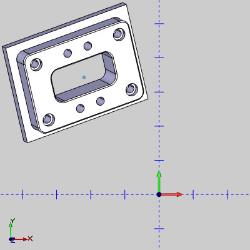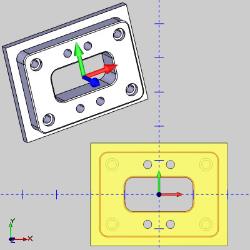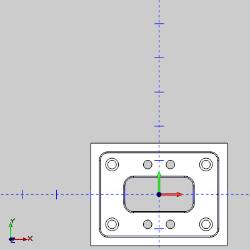 BobCAD-CAM's new Advanced Holes feature allows you to create complex 3D holes, and even assign threading information to them, just by selecting the locations and entering the desired values! In the past, our Extrude Cut feature went a long way in making CAD design quick and easy. By extruding and subtracting in a single function, design time could be drastically reduced. The only trouble was, if you wanted a counterbore, you needed another arc, and another Extrude Cut function. If you needed a chamfer, you'd have to go to the chamfer function next. And if you wanted to represent the drill tip angle you would need to tackle it a whole different way. With our new Advanced Holes function, simply pick the points, enter the desired dimension, and you're done; drill tip and all. Not only that, but you can assign thread information to the holes you create. With threading information attached, proper tools and depths are set automatically when you use the new Hole Recognition feature to toolpath your part!
Holes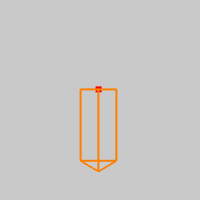 Holes with Chamfer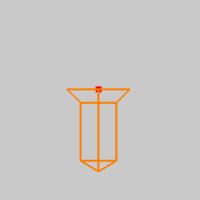 Holes with Counterbore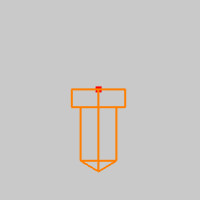 Combination Holes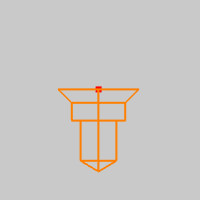 Points Placed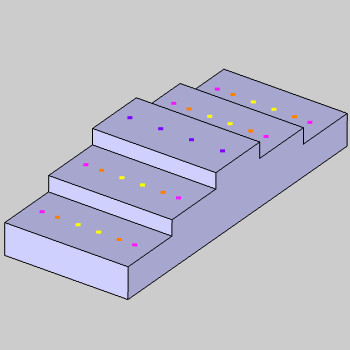 Holes Created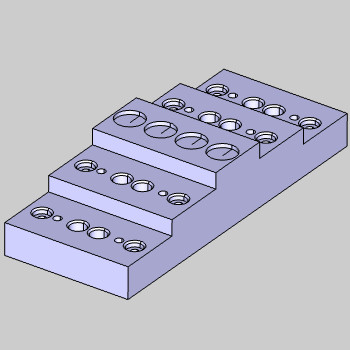 In the example used above, we created 4 different hole types in 28 different locations in under 2 minutes.
New CAM Features
BobCAD-CAM now offers probing cycles with the new Probing module! Everything in the machine shop is about precision, and because of this probing is becoming an indispensable part of machine shop. Being able to verify work and tool offsets with 100% accuracy, check tools for breakage, and even inspect finished parts can save and enormous amount of time and money, and now BobCAD-CAM has everything you need to bring your shop to the next level.
Probing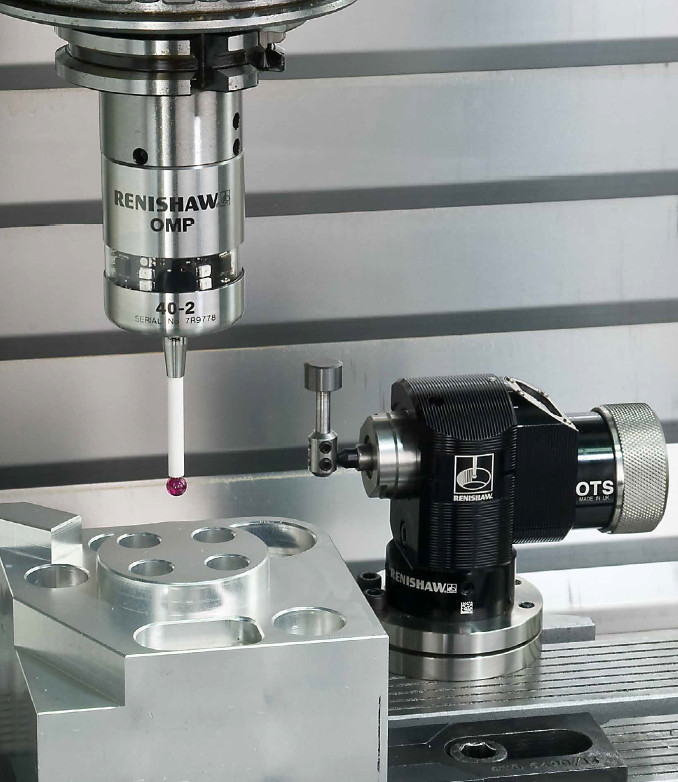 Contact Tool Setter
Non-Contact Tool Setter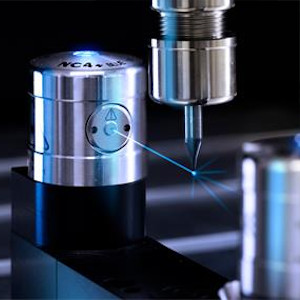 Between these three operations there are a total 41 different cycles available that include:
Measuring Cycles
Contact Tool Setter Cycles
Non-Contact Tool Setter Cycle
Calibration Cycles are not included
BobCAD-CAM V33 is the first release ever to offer a way to bring MachiningCloud tool assembly exports directly into your BobCAD-CAM Tool Crib, or Tool Library. In the past, having an accurate tool to simulate, meant figuring out how to design it, then designing it, then going into your library to assign that newly created geometry to the proper tool. The same went for your tool holder and your arbor. Now that you can import MachiningCloud jobs, this all happens automatically. Finally, you can have the most accurate tool geometry possible for accurate gouge checking, and accurate simulation of your mill and lathe tools with none of the headache!
Lathe Tool Backplot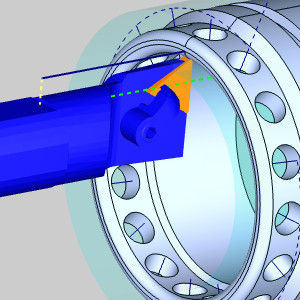 Lathe Tool Simulation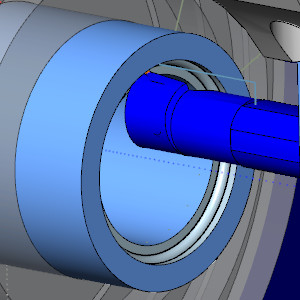 Mill Tool Backplot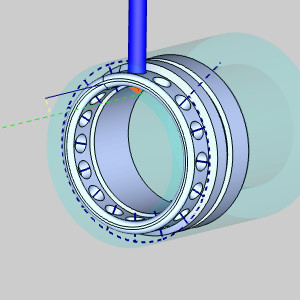 Mill Tool Simulation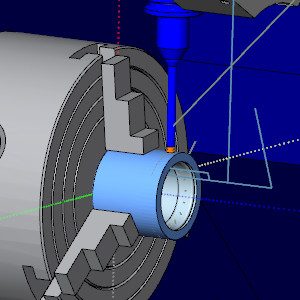 We have taken Hole Feature Recognition to a whole new level in this release. Now, with a single click we recognize all four hole types, and their variations!

The machining features are automatically created based on a customizable set of rules in our new knowledge base, and all can be computed at once! In this release, feature recognition has been broken into several parts to give you the most control possible, while keeping things simple:
Step 1

– Launch Hole Recognition

Step 2

- Review found hole features

Step 3

- Done! All holes machined
Step 1

Step 2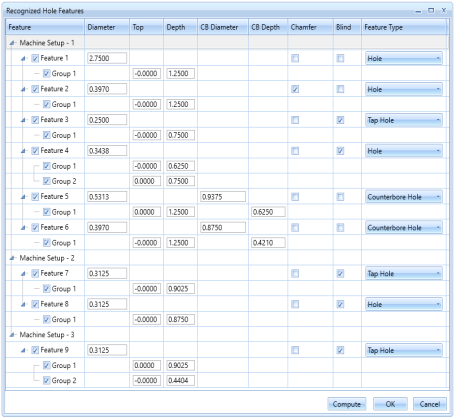 Step 3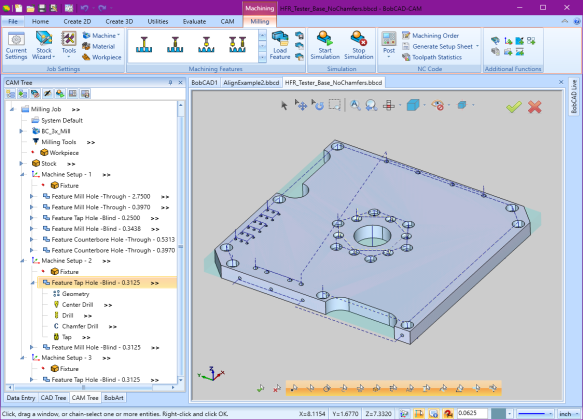 With the new Corner Slowdown option, you can cut your feedrate to specified percentage when you approach corners. When programming speeds and feeds many things need to be taken into consideration, especially ensuring the tool does not engage too much material at the same time since this can easily break a tool. When moving around a part, additional stock is always encountered in the corners.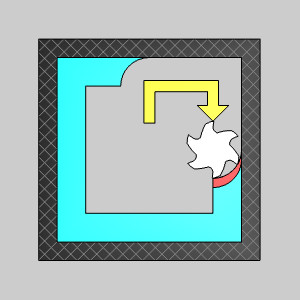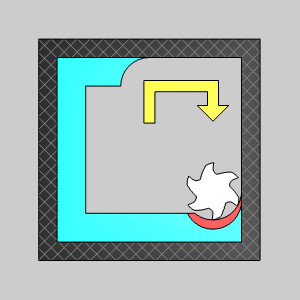 Notice how much additional material this tool engages in the corner. While you want to remove material as quickly as possible, scenarios like this must be accounted for, and until now, that meant having to slow the speed on the rest of the path as well. Now, with the new Corner Slowdown feature, simply specify how close to get before the corner, and the percentage to slow the feedrate down to and you're done!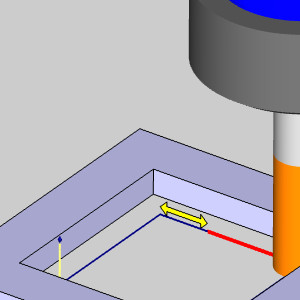 The toolpath is broken and the feedrate is dropped by the specified percentage.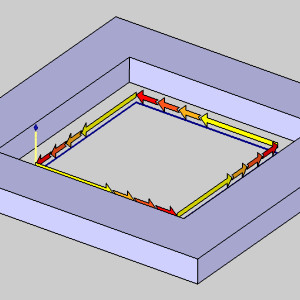 This feature will even allow you to divide the specified distance into a number of segments so the feedrate gradually drops to the specified feedrate percentage! Now, you can finally set your speeds as fast as you can, and handle the corners just how you need them to be.
Supported Barrel Mill Tool Type:
Standard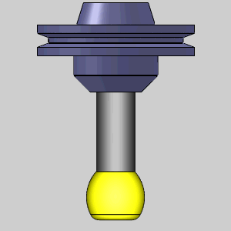 Advanced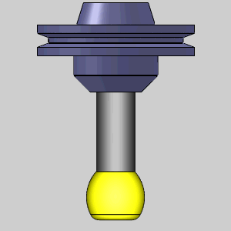 Tangent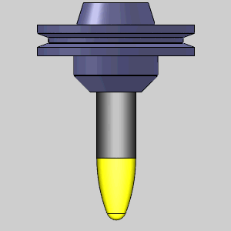 Lens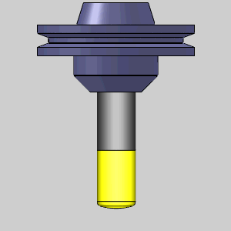 Double*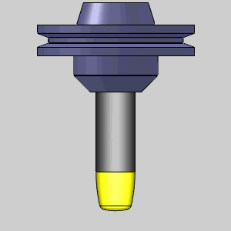 Section*
Taper*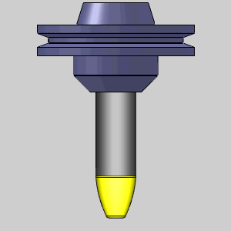 For the first time, BobCAD-CAM now support Barrel Mills for most operations. More and more companies are turning to Barrel Mills. Cutting with Barrel Mills can save an unbelievable amount of time and money. Until now, we've had no way to support these tools in your operations, but after working hand in hand with Melin Tool Company to test and retest, we can give you a product that puts this amazing tool in your hands. See the diagram below to get an idea of why these tools are quickly becoming the standard.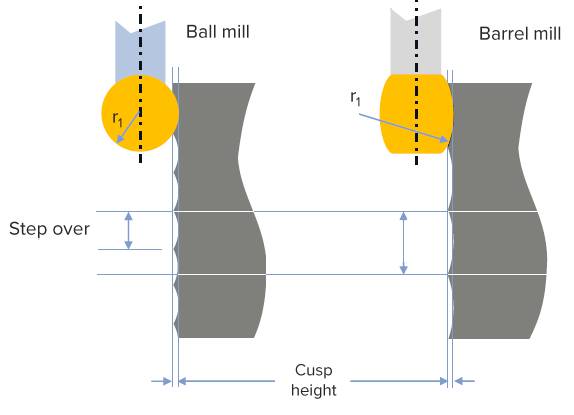 Note:
It's easy to see how these tool shapes can save so much time! You can program a barrel mill tool with a much deeper step down and still leave the desired cusp height. Two additional barrel mill types can be utilized with the Mill 4 Axis Pro surface based toolpaths.
*These tools are only available in Mill 4 Axis Pro.
In the world of machining, it's all about the chips, and chip control, and in this release BobCAD-CAM offers a chip break in all applicable Lathe operations. While there are a lot of top form geometry inserts designed to form chips that break themselves into the proper sizes automatically, a bird nest of unbroken chips can still be a headache in certain circumstances. With this simple chip break option, you can control the retract distance, and spacing between those retracts and ensure you get the chip size you're looking for every time!

Chip Break...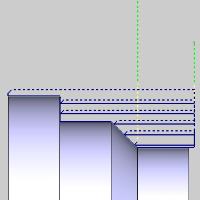 Chip Break...