Tech Tuesday is a weekly blog that addresses some of the most common questions and concerns that I hear throughout the previous week from users of BobCAD-CAM software. Both customers and future customers are more than welcome to leave a comment on what they would like to see covered for the following Tech Tuesday. Enjoy!

In honor of 2019 approaching, it only felt right to do a year review of all the great topics that Tech Tuesday has covered. From V30 to V31, these blogs have covered a wide range of topics, spanning from customer questions to just plain old good information! Below you will find all 50 articles and a short description of what to expect in the blog.


So, how do you turn that picture of the kids at the pool into vectorized geometry capable of being machined onto a coffee table or window? With BobCAD-CAM's premier artistic CAD-CAM software of course! Transform your artistic imagination into manufacturing reality with any CNC Mill, Router, Waterjet, Laser or Burning machine. Here's how you go from picture to perfection with BobART.

It's often that I hear from CAD-CAM users, "Will the software run on my computer?", or "If I get a new computer, what do you recommend I get for optimal performance?". Whether you're new to machining or a seasoned veteran, here are 5 things that you should check when evaluating if your CAD-CAM software will run optimally on your computer or not.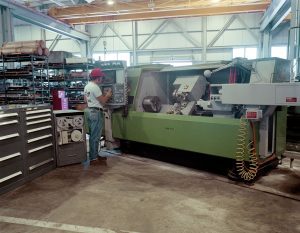 Here are 6 great ways users can get training on their BobCAD CAM software, no matter what their schedule looks like!

The release of BobCAD-CAM V30 provided a lot of great features that established industry standards. Improving cycle times and creating a more user-friendly experience is the foundation on which V30 was built. Here are the top 10 features.

We partner with SOLIDWORKS to bring our customers some of the most powerful CAM systems on the market. BobCAM V6 Lathe for SOLIDWORKS gives users more power and performance for their CNC Lathe machines with this dynamic plug-in. For example, easily set advanced 2 Axis Toolpaths for OD & ID roughing, finishing, grooving, threading, boring, drilling and cutoffs.

This Tech Tuesday highlights simulation enhancements in the new V6 CAM software plug-in for SOLIDWORKS. These upgraded functions are sure to simplify your workflow and strengthen the quality of your machined parts.

Who wouldn't want to be more efficient in their machining process? Work smarter not harder becomes less of a saying and more of a reality with 3D CAM software. Machinists are steadily realizing that 3D CAD-CAM software is a great way to improve CNC machining in their shops.

Modern CAD-CAM products are much different from their early predecessors. Early CAD-CAM products were wireframe based and relied on line and arc type geometry to establish Toolpath. Advancements in CAD-CAM afforded users more flexibility in setting up the part's stock.

BobCAM's V6 Mill enhancements are by the dozen and sync up to produce our best 2 Axis Milling module yet. There are plenty of upgraded features and a few new ones that you have to check out like Tapered Thread Milling. Let's take a look at what's new and what it means for you.

BobCAM's V6 Mill 3 Axis CAM software delivers better finishes in less time with smarter machining options. If you ever had frustration with quickly calculating speeds on larger jobs, perhaps you will find our improved Advanced Pocket Calculation useful. Maybe you just wish you had more control over the machining process? This article is for you.

This Tech Tuesday is about BobCAD's Mill 4 & 5 Axis modules in BobCAM V6 and how they work for you. Whether it's building out a feature that makes it so you don't need to draw additional geometry or it's an enhanced feature that saves you time, intelligent features are baked right into the V6 CAM software.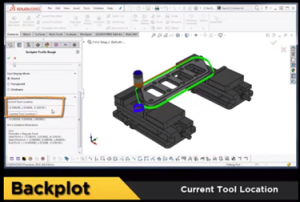 We are highlighting the overall CAM improvements in BobCAM V6 for SOLIDWORKS as we continue to shed light on this powerful tool. Improving shop efficiency is the core design of this product, with user-friendliness as the driving force. Check it out!


Subscribe to BobCAD-CAM's Tech Tuesday Blog
Join your fellow machinists. Get the latest Tech Tuesday CAD-CAM articles sent to your inbox. Enter your email below:
This Tech Tuesday is the final breakdown of BobCAM's V6 for SOLIDWORKS, segueing right along from the last article about CAM Enhancements in V6. This Tech Tuesday will highlight the operation enhancements that have been applied to BobCAM V6 and how that translates to a smoother workflow and greater control for the programmer.

This article takes a look at the similarities and differences between these 2 powerful CAD-CAM packages and why many users choose to upgrade to our Professional Level of 3D Milling CAD-CAM Software.

To make selecting a CAD-CAM module for your shop easier, I created a quick reference guide for users who are doing multiaxis work; more specifically, 4 Axis. Let's spend a few minutes to go over Mill 4 Axis Standard and Mill 4 Axis Professional, noting the benefits they bring to you and your shop.


If you aren't programming a 5 Axis machine today, it's likely you will be in the near future. For many CAD-CAM programmers, this is a cause for concern. 'How am I going to program 5 Axis'?! I think we all agree, 5 Axis machines offer many benefits, even for the small shops, like 5 sided machining. Here is what users can expect from BobCAD's 5 Axis Mill Standard.

Complex programming demands from Mill Turn machines deserve a simple to use, powerful software. Users can program everything from 2 Axis turning to full 4 & 5 Axis simultaneous Milling. Take full control and easily program complicated parts like complex valves, oil drilling tools, medical components and much more. Let's look at the different features users get to utilize with this dynamic software.

Post Processors are very important, and some might say it's the success or fail point of any CAD-CAM system or CNC software. Why? A post processor is used to format the G-code that's produced by the CAM software. Here's what they are and how they work.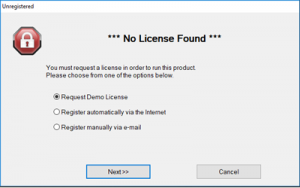 The demo version is a great way to get familiar with the software, allowing you to see how it will affect your workflow and productivity first-hand.

BobCAD has many convenient training options available to meet people's busy schedules, offering both free training resources and training resources for purchase. Let's look at what resources are available and whether or not they cost money.

The benefit of having a support plan goes well beyond dollars and cents; adequate support is priceless when staying ahead of the competition. This article will arm you with knowledge about the support we offer and what you should expect from those plans.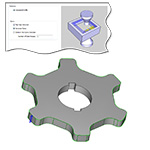 Want to simply and effectively program your 2 and 4 Axis Wire EDM machines? BobCAD-CAM is your powerful, cost-friendly solution with time-saving features that are simple to use. Check it out!

This article will navigate you through your CAD-CAM's stock wizard and the 6 stock types you will be using. Those stock types include the following: rectangular, cylindrical, wireframe, solid model, STL file and revolved.

Did you know you can control the linkback Feedrate for adaptive pockets in your CNC software? BobCAD's latest CAD-CAM system allows users the ability to do just that, giving them more control over their cycle times. Let's look at how we can do that in the software.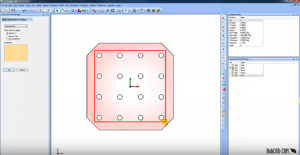 With BobCAD-CAM software users can select points, arcs or surfaces when drilling holes in 2 Axis. This Tech Tuesday will cover the three types of geometry you can use when using your drilling features.

When drilling in 3 Axis, users can drill holes that start and stop at different Z levels with BobCAD's V30 CAM software.

Simply put, Extrude Boss is a fast, simple way to add shapes to your existing solid models.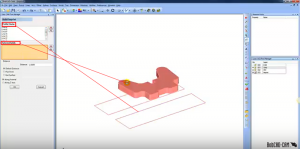 With BobCAD-CAM's latest CNC software, users can take advantage of our Solid Imprint feature to create tooling for various projects. Creating an imprint is a pretty simple thing to do in BobCAD software.

CAD-CAM software has turned the intricate tasks of hours and days into a matter of seconds when we talk about machine toolpath and g-code programming. Want to make your life easier? CAD-CAM software is the solution in reforming your CNC machining productivity.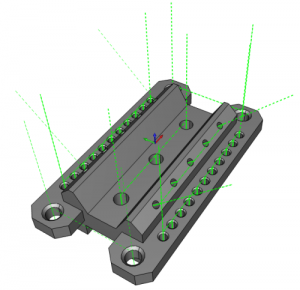 How does BobCAD-CAM's CNC software make programming these holes easier? We have a simple trick; reusing your hole features from recent projects for future projects.

Lathes with live tooling are slowly becoming the most popular machines on the market today, mainly due to their one-and-done machining potential. Job shop manufacturers like yourself are constantly looking for better ways to reduce programming, part handling and cycle times; many of which finding Lathes with live tooling to be the answer.

Damaging a tool can be an expensive mistake, but damaging a machine is much more costly to you and your shop. BobCAD-CAM helps you avoid losing profitability with one simple feature; Machine Simulation.

To accomplish your part flip, you can consider multiple workholding options. Using your stock geometry as part of your workholding is an old-school method that shops have been using for as long as shops have been around. Let's take a look at one feature you can use to make part flips easier.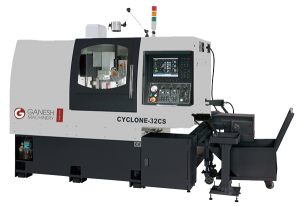 This document is a compiled list of information about how different machine tools program for multiple turrets and how they handle the syncing for those turrets in your CAM software.

When it comes to 5 Axis machining, there are 3 main types of machine configurations. Let's take a look at what those are.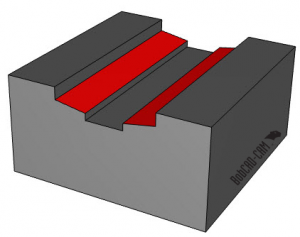 Let's take a look at the features BobCAD-CAM CNC software offers to help you control 3D toolpaths. We will start with the part model below.

Machining off our 3D models is a faster and easier way to set up and program. Being able to select the whole model and let the software find where to cut for you is a huge time saver. This eliminates the need to select and define multiple boundaries. Let's take a look at some of the tools you can use to get the most out of your toolpath, ensuring you're getting the results you expect from your CAM software.

With BobCAD's CAM software, users can measure surfaces and solids directly. To do so is simple and can save you a lot of hassle. Let's check out how this works and the different ways you can access your measurement tool.

BobCAD-CAM's robust and powerful CNC software allows you to machine 5 axis chamfers, breaking edges on compound curves and complex geometry. Using our surface-based multiaxis Project Curves toolpath, you can adjust the depth and the offset of the tool, making this toolpath a great choice for users applying 5 axis chamfers. Let's take a closer look.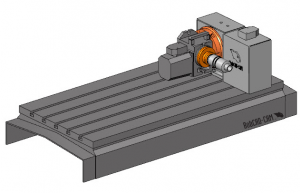 Using machine simulation for 4 and 5 axis part programming offers huge benefits to developing collision-free toolpath. In order to take advantage of this feature, you'll need to build a machine within your BobCAD CNC software.

With the release of Version 31, many people are asking the same question… What's New? Starting with our Wire & posting enhancements, let's take a look at what people can expect from our latest CAM software.

A very popular way to quickly rough hard material is Plunge Roughing. There are many benefits to this approach and BobCAD offers multiple ways to accomplish the job for 2-5 axis part programming.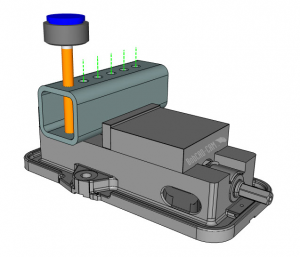 Let's take a look at a simple drilling project and how using BobCAD's V31 toolpath editor can reduce the cycle time on this example project.

Let's take a look at programming an undercut using a T cutter and its workflow.

Pulling dimensions off your part models is an essential part of any manufacturing process. Let's take a look at some of the features BobCAD's CNC software offers to aid in the creation of part prints, inspection reports & measurements.

You know G-code and use your machine's canned cycles to tackle your daily programming jobs. Why would you need or want a CAD-CAM system for your Mill Turn machine? Let's take a look at the toolpath cycles and options BobCAD's Mill Turn software offers to shops like yours that makes programming parts easier and faster than conversational or hand programming.


One of our customers came to us on our AfterDark Facebook group recently looking for some help in an older version of his BobCAD software. He says, "I do a ton of 3D machining, this simple little thing came up and I'm stumped. I want a 1/8″ ball mill to follow this toolpath with an offset of 1/2 the tool but at the radius and bottom of the path, the tooltip follows the path. The 3D wireframe only follows the tooltip." Here's how we solved it.

It doesn't matter if you are ready for it or not, 5 axis is likely to be a reality in your shop sooner than later. Let's take a look at some of the features we used to set up and program a sample endmill using the BobCAD-CAM V31 5 Axis Mill Professional CAM software.

Here's a look at the top 10 things that define the new V31 CAM software.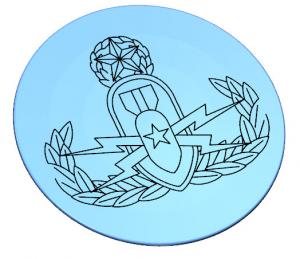 Let's say you have a logo and a curved surface; what are the steps you should take to engrave that logo on the curved surface? Let's take a look at what we need to do using BobCAD's CAM software.

And there they are, all 50 Tech Tuesday articles in one spot! Which one did you find most helpful or enjoyable to read? Comment below! Thank you for reading another Tech Tuesday; see you next week!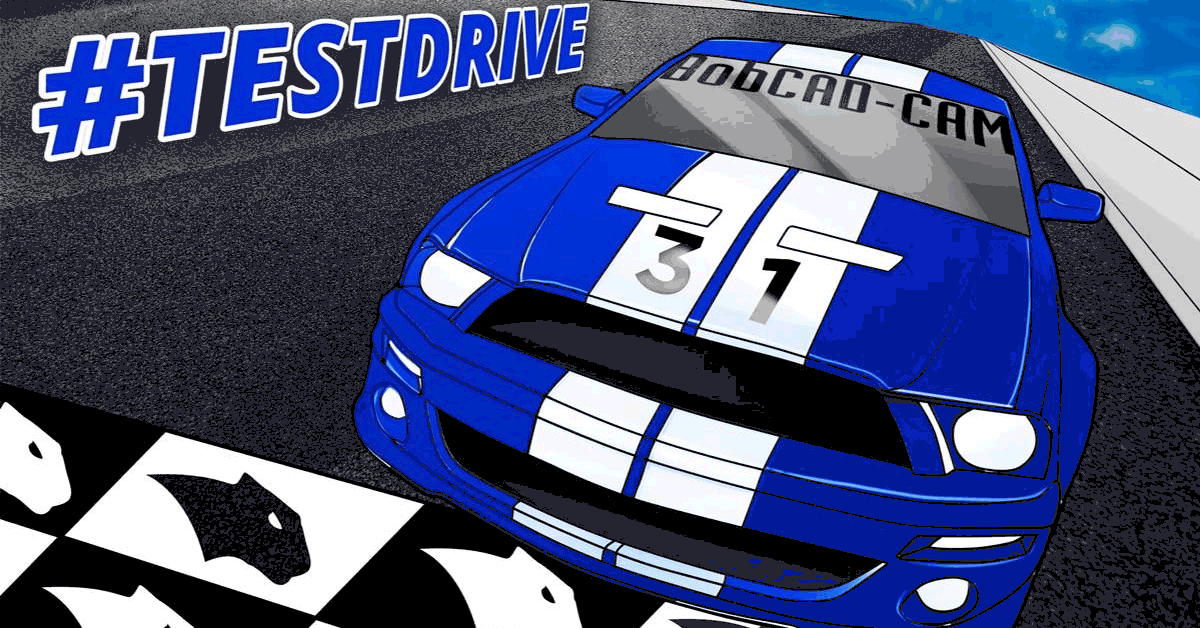 Start your Test Drive.
Have questions? Call us at 877-838-1275.

You're one click away from subscribing to BobCAD's YouTube channel. Click the link below for tips, how-tos and much more!