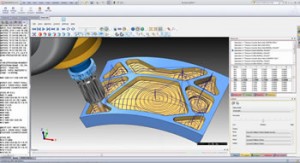 We released the third and newest version of BobCAM for SolidWorks this week at SolidWorks World. BobCAM is a CNC Software Add-In that provides users the ability to program their designed parts right inside SolidWorks.
BobCAD-CAM's brand new BobCAM V3 will provide a more robust and complete CAM solution for machinists and manufacturers in several industries, such as automotive, aerospace, medical, and general CNC milling.
BobCAM V3 offers enhancements to several areas of the BobCAM system based on the feedback from customers. For example, the software is now offered as both a 32-bit and 64-bit native application, allowing shops to take advantage of more of the system memory for large toolpath calculations and simulation.
Other improved CAM elements include: stock wizard, wrapping groups, tool crib, material/cutting conditions, and tool holder library. The new tool holders can be defined with an easy to use interface that contains a preview window, which updates in real time to show the actual tool holder as it is being created.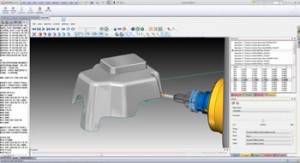 The 3 Axis Pro toolpaths are now multi-threaded, taking advantage of all of the processing power of multi-core computers. The 3 Axis Pro toolpaths access all available processors of the host computer for computing the 3 Axis Pro toolpaths, making calculations faster and easier than ever.
The new version of BobCAM also offers new 2 and 3 axis milling improvements, such as: advanced pocketing with adaptive roughing, 3 Axis adaptive roughing, multi-pass pencil, facing cycle enhancements.
MultiAxis modules have been added in this most recent version, and include features such as: rotary toolpath, 3+2 positioning/indexing, 5 Axis trimming / wireframe based toolpath, surface based toolpaths, multiaxis roughing, swarf machining, machine definitions, full machine simulation, and various new tool types.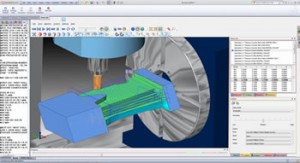 BobCAM V3 for SolidWorks offers CNC Milling Modules for 2 & 3 Axis Mill Standard, 2 & 3 Axis Mill PRO, 4 Axis Mill PRO, and 5 Axis Mill PRO so that you can add functionality and machining capabilities as your shop grows.  BobCAM V3 for SolidWorks is an affordable and powerful solution for machinists that want to continue to design in their primary CAD packages but need a new CAM solution for SolidWorks. Learn more about how BobCAD can help your shop make new investments, grow business, gain clients, and save money by calling 877-262-2231.
Copyright © 2013 BobCAD-CAM, BobCAM.  SolidWorks is a registered trademark of Dassault Systèmes or its subsidiaries in the US and/or other countries. Copyright © 2013 Dassault Systèmes SolidWorks Corp.