The holiday season brings in wonderful feelings of thankfulness. It unites people from all walks of life to join in the spirit of both giving and receiving. Last year, our employees really came together for our toy/bike drive and made the holidays special for a number of boys and girls. Together, we compiled 13 bicycles, 5 skateboards and a ton of other gifts for the children of A Kid's Place of Tampa Bay, a nonprofit foster home in the Tampa area.
This year, we really want to do something even more special for those youngsters in need and we are calling upon our amazing customer base for support. We will be working with Showtime Transportation, West Florida Limousine Association, Kelly's Chic-A-Boom Room and Strokers for the benefit of the Children's Home Network. Donations can be made in the form of unwrapped toys (ages 1-18), bikes or monetary. Be it big wheels for kids or any other kind of toys, unfortunate kids are sure to love your gifts to them. True happiness does not equal a lot of expensive things, showing we care is more than enough. For every dollar donated, BobCAD will match it 100%. The deadline for donations is December 13th. The night of December 13th we will be presenting all items and money to the Children's Home.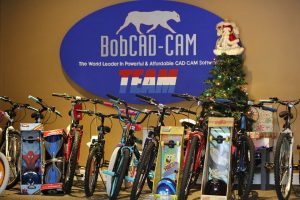 About Children's Home Network:
The Children's Home Network is a nonprofit organization that provides help to abused, abandoned and neglected kids in the Tampa Bay community. Since 1892, they have been committed to strengthening the community through programs that support, serve and protect children and their families. On average, they assist around 25,000 kids/families a year thanks to community support such as yours!
Click HERE to visit their website!
How You Can Donate
Unwrapped toys/bikes can be sent to the following address:
BobCAD-CAM Inc.
28200 US Hwy 19 N, Suite E
Clearwater, FL, 33761
For monetary donations, please contact Sarah Stauff via email: [email protected]
We look forward to working closely with our partners, customers and employees to deliver a happy holiday to many deserving kids/families here in the Tampa Bay area! Keep your eyes and ears posted to our social channels for updates and pictures on the wonderful things your donations are doing.