BobCAD-CAM, Inc., developer of high performance CAD/CAM software, has announced it will offer a 3-day certification training seminar in Wichita, KS June 10-12.
BobCAD-CAM, Inc. training events are designed to help participants get the most out of their BobCAD-CAM products. The seminar instructor will review software features that enable everyone from the shop owner, designer, and CNC operator to solve every day machining problems with the goals of increasing shop capabilities and profitability.
Learn How to Increase your CNC Machining Efficiency at a BobCAD-CAM Training Event
Attendees of this seminar can expect to become proficient in using the BobCAD-CAM Mill and CAD software modules. This seminar will feature additional evening courses to cover certification training for BobART and Lathe modules; attendees are encouraged to enroll in these lessons as well.
The instructor's curriculum is scheduled to cover everything from 3D CAD drawing to tool patterns, post processors, surface tools, simulations, and much more. This is a completely interactive course so everyone is welcome to bring CAD/CAM or CNC programming questions.
This seminar is perfect for new BobCAD-CAM users, experienced BobCAD-CAM users that want to learn more, users looking to train for professional operator certification, and anyone looking to get more out of their CNC machining.
Click HERE for seminar and registration details. For additional information or to register by phone, call Gus Kasimos at (877) 262-2231 ext. 137.
BobCAD-CAM instructors offer training seminars year-round, in cities across the globe. To find out when a BobCAD-CAM instructor is coming to a city near you, visit our Training Schedule HERE.
Try our free, no obligations software demo today. Click HERE to download.
Here are additional links for information on CAD-CAM training solutions:
Summary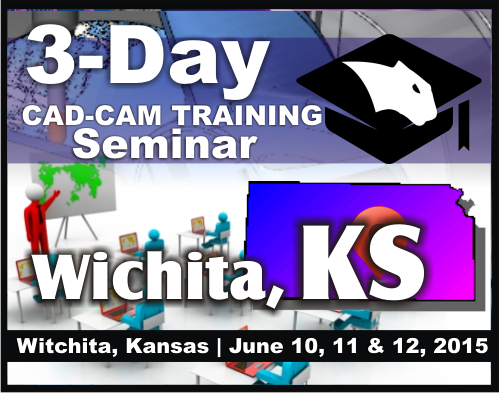 Article Name
BobCAD-CAM, Inc. To Offer Certification Training Seminar in Wichita, KS
Description
A CAD/CAM instructor from BobCAD-CAM will be on hand in Wichita, KS June 10-12 to offer training and certification opportunities for the Mill, CAD, Lathe, and BobART software modules.
Author
Nick Erickson | BobCAD-CAM