NECO INDUSTRIES was established in 1980 providing Oklahoma City and beyond, a single source solution for your precision machining needs. With their multiple machine centers and turning centers they can easily assist customers with all of their close tolerance needs in part making. Their CNC machines include HAAS lathes and a VF3 mill at NECO Industries in addition to two FADAL 4020s.


Typically machine shops have more than one CNC machine, which all include the need for customized post processors that will output the exact g-code that the machines need in order to actually work. BobCAD-CAM has a unique posting set up that can be customized by the user. Though this is a benefit to customers, the software typically comes with many pre-configured posts that are all available to customers.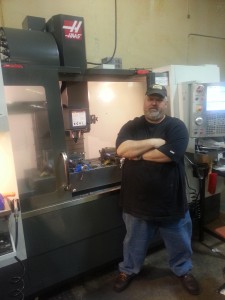 "I have BobCAD-CAM post processors for all of my machines," says Scott Engel who is the CNC programmer that uses the BobCAD-CAM software at NECO Industries. Scott also machines parts at another manufacturing company, ACI, with a HAAS VF4, a VF2 SS, a Hyundai Wia CNC lathe and a Mori-Seiki sl45b CNC lathe that are all programmed with BobCAD-CAM CNC software.
Scott has over 25 years of machining experience in both manual and CNC machining with the last 16 years being mostly in CNC work. Scott is the CAD-CAM/CNC programmer, setup, machinist and leadman for the company. Scott has also programmed from home for a company in California, where most of his CNC programming and machining work has been for the racing industry.
The CNC work at NECO Industries lately has been for the aerospace industry. Although this has been the case recently, the company is somewhat of a job shop that can take on a wide variety of design and CNC machining tasks.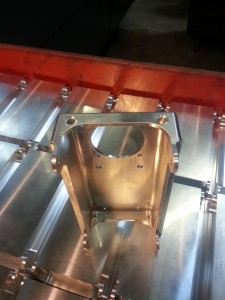 One of the main challenges in the shop has been producing CNC parts faster and more efficiently, which meant reducing cycle times through the use of improved CAD-CAM technology. BobCAD-CAM was their solution because of the advanced roughing with high speed machining tool paths that do exactly that. "I have just started getting into 3D & high speed machining. Less setups equal more profits," says Engel, who saw a return on their BobCAD-CAM investment with the high speed strategies alone. He continued by saying, "One word to describe BobCAD-CAM would be, value."
The BobCAD-CAM milling software offers a wide variety of powerful toolpath strategies to give you advanced control over how you target your part. The high speed machining strategy is extremely effective. The software offers a unique Advanced Roughing operation that includes the option to use an Adaptive High Speed machining technique. This was specifically added to give the programmer an advantage in roughing out 2D or 3D regions of a part, or the entire part. Boundaries can be created and used to segregate the toolpaths into specific regions of the part, deep cavities or regions that require a smaller tool to machine. This would not be used to replace a REST operation. An advanced REST machining operation would be used as a part of the finishing process to clean up areas where the larger tools were unable to machine.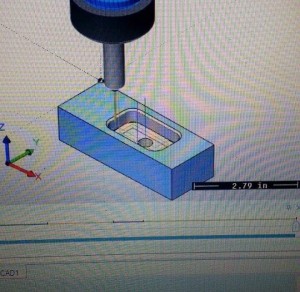 Initially, the company chose BobCAD-CAM because of the volume of features vs. the price, where the value seemed too good to pass up. "I learned about BobCAD-CAM when I took over most programming duties in 2013. I started with version 25," says Engel. He continued, "I chose BobCAD-CAM software because of my familiarity with it and the great value."
They have taken advantage of technical services and training products that have helped them learn how to be even more productive with the software as well. "I have had great experience with BobCAD-CAM support. It's only a phone call away. The tutorials are informative and I would definitely recommend BobCAD-CAM to anyone", said Engel.
Scott Engel | NECO Industries, Inc. | www.necoind.com




BobCAD-CAM has provided CAD-CAM CNC Software products to the global manufacturing industry for over 30 years. BobCAD-CAM software can be found to increase CNC productivity for many applications including educational and independent hobby home use. Products include machining technology for 2, 3, 4 & 5 axis CNC milling, routing, waterJet, plasma and laser machines as well as 2 axis CNC lathe.
BobCAD-CAM also provides a variety of quality training products that include regional and online training classes or private sessions tailored to specific applications. Professional certification can be acquired as well as multi-tiered technical support solutions to their service customers. Contact BobCAD-CAM today for more information at 877-262-2231 or 727-442-3554.
Download a Free BobCAD-CAM Demo HERE