May 2012 – BobCAD-CAM continues to support education by sponsoring "Blazing Arrow", a collaboration school team participating in the F1 in Schools Technology Challenge by providing them with CAD/CAM software for their challenge. This way they can gain a competitive edge in the competition.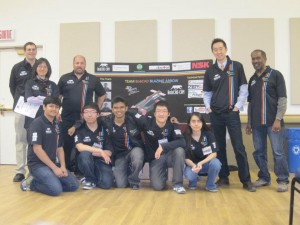 THE F1 IN SCHOOLS CHALLENGE
F1 in Schools Ltd is a not-for-profit company established with committed partners to provide an exciting yet challenging educational experience through the magnetic appeal of Formula One. F1 in Schools is rapidly realizing its potential of becoming the only truly global educational program that raises awareness of Formula One among students and school children in every region, in every country, on every continent. Spanning age ranges of 9 to 19 its main objective is to help change perceptions of engineering, science and technology by creating a fun and exciting learning environment for young people to develop an informed view about careers in engineering, Formula One, science, marketing and technology.
Al Depoalo, the Partner Products Director at BobCAD-CAM was quoted by saying, "The F1 program is a global challenge that spans over 31 countries throughout the world currently and is growing fast. This fits with our over all program in supporting schools everywhere with our Manufacturers of the Future Program and we are very happy to be a part of it all with these kids."
You can learn more about the F1 School Challenge by visiting http://www.f1inschools.com