Pioneer CNC Software Provider BobCAD-CAM Releases New BobCAM for SOLIDWORKS™ V6 CAM Plug-in for CNC Milling.


BobCAD-CAM, Inc. is a Gold Partner CAM solution for SOLIDWORKS CAD design products and has just released its most versatile CAM plug-in for SOLIDWORKS, to date.



In 2010 BobCAD-CAM became an official SOLIDWORKS Solution Partner in order to provide SOLIDWORKS users with an affordable CAM solution to manufacturing parts on their CNC machines without having to leave the SOLIDWORKS environment. Since then they have continued to develop the add-ons for these customers and have just finished the largest feature-packed update to date. Their CAD-CAM products improve workflow efficiency by streamlining the process of selecting tools, materials and cutting strategies which can be very time consuming and produces the numeric code that the machine requires to actually machine the part fast and error free. With the new release of their latest BobCAM for SOLIDWORKS Version 6, they have added many features that make this the most robust BobCAM upgrade to date.
Starting with faster toolpath verifications for individual operations, the new system allows for tracking tool movements on single operations, without the need to launch the actual simulation features. This includes the ability to verify tool movements, tool location, orientation, feed rates, start points, and starting direction in order to give the operator valuable information, efficiently. This dramatically speeds up the ability to check and confirm the job being programmed.



Improvements also include Improved machine sequencing features for drilling. BobCAM V6 adds X, Y, and custom direction sequencing options, the ability to reverse each operation to track back along the path of the first operation as well as the ability to manually select geometry or let BobCAM find the next closest hole to be drilled automatically. These new features provide improved drilling efficiency and reduced cycle times.



BobCAM V6 is modular which means that lathe can be added or purchased along and added to SOLIDWORKS. The new lathe module provides a completely enhanced set of CNC Lathe features and capabilities. Features have been added such as "Trim to Stock", for trimming away unwanted portions of the toolpath as well as stock tracking to automatically update operation stock. Also included is Zig, Zig Zag, and Offset style strategies for roughing and new feature definitions for eliminating the need to draw additional geometry. Now users have the ability to use feature extensions to extend & trim virtual geometry without adjusting the actual CAD geometry. All the new lathe features result in simplified, faster toolpath programming and improved efficiency.



Important new features in BobCAM V6 include improved toolpath control, including the fact that gouge checking is now available for all Mill Pro toolpaths. You can set various clearance options for different components of the tool as well as select surfaces to give additional allowances to, or even avoid surfaces completely. This results in more control over where the tool does and doesn't go.



The Thread Milling features have been enhance by adding the ability to machine tapered threads. Side roughing is now available for threading operations. Machine compensation is available for thread milling and new thread mill tool types are available to the user. This update offers faster and easier to use functionality.



Other enhancements include "single-click" geometry updates where there is a new "Update All Geometry" feature. Also, users now have the ability to update or "re-associate all modified geometry" with the CAM tree in one step and more. These featured have all been added to make the software easier to use and more efficient in programming capabilities.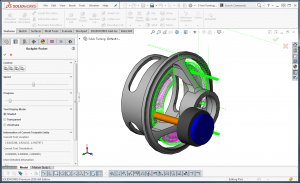 "Simulation is a major advantage for machinists that can help eliminate costly errors in g-code programming," says Greg Myers who manages the development departments at BobCAD-CAM. The simulation features of the system have been greatly enhanced, adding new smart view feature that uses a rotation cube to quickly shift the view for the user, automatic quality improvements that facilitate a smoother running simulation, the ability to measure distances between machine components and the stock itself as well as a video capture option inside the simulation window so that an actual video of the simulation can be created for showing the simulation results later. All of these new features provide better simulation performance and provide a simplified delivery of key information to the user as needed.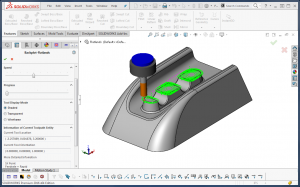 For manufacturers that need 3 axis toolpath and machining options, the improved 3 Axis Pro finishing toolpaths have been enhanced by adding step down in advanced planar mode, a new rest finishing operation from an STL stock model and a major time saving adaptive high speed machining operation in the flatlands strategy that will reduce cycle times and provide the user with an excellent solution for 3 axis roughing and finishing, not to mention better surface finishes. More powerful multiaxis surface-based toolpaths have been developed including "Extend Edge Curve", exact step-over calculations and a "Maintain Tilt" feature to make multiaxis programming easier, all resulting in improved surface finishes and easier tilting strategies.
BobCAD-CAM has provided CAD-CAM CNC Software products to the global manufacturing industry for over 30 years. BobCAD-CAM software can be found to increase CNC productivity for many applications including educational and independent hobby home use. Products include machining technology for 2, 3, 4 & 5 axis CNC milling, routing, waterjet, plasma and laser machines as well as 2 axis CNC lathe. BobCAD-CAM also provides a variety of quality training products that include regional and online training classes or private sessions tailored to specific applications. Professional certification can be acquired as well as multi-tiered technical support solutions to their service customers.