BobCAD-CAM software announces the release of the new training professor video series for the Version 25 Multiaxis Standard CAD/CAM software. The release comes as a major step in providing effective training solutions for manufacturers that program parts for 4th and 5th axis with their cnc software.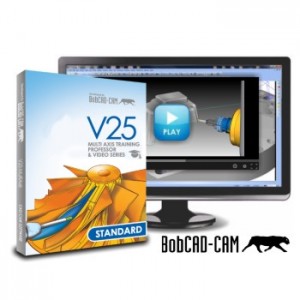 The training video series allows programmers and machinists the ability to train of the fundamentals and functionality of the software on their terms in the comfort of their office or anywhere they wish. Step by step lessons walk the person through the fundamentals of the software, programming procedure, creating a multiaxis job, toolpath strategies for 4 & 5 axis parts and how to generate the right NC program for the CNC milling machine through posting.
Training topics include:
– Setting Up The Machine Configuration
– Setting Up Multiaxis Parameters
– 3+2 Toolpath Creation
– Indexing
– Wrapping
– NC Code generation
– Simulation
Using training videos for CAD/CAM training can help a shop increase programming success by as much as 50% or even more in some cases. They're portable, they allow a machinist to train at their own pace and they are extremely cost effective in terms of the return on investment when used. When it comes to training BobCAD-CAM not only provides the video training sets, they also offer online training classes, 3 day seminars around the country, On-Site training where they actually conduct classes at the customers shop as well as In-House training classes at their international headquarters in Clearwater, Florida. You don't necessarily have to be a BobCAD-CAM customer to access their training products or opportunities. Some shops have attended training events just to learn more about CAD/CAM programming fundamentals and how to integrate the software into their manufacturing processes. In addition to training BobCAD-CAM provides online operator testing and certification.
The NEW Multiaxis Standard Training Videos provide:
– 25 Individual Training Videos
– Special Digital Workbook
– CAD Part Files for Practicing
For more information on the new Multiaxis Training videos call 877-262-2231 or 727-442-3554 today!