Clearwater, FL – BobCAD-CAM software provides some of the best CAD-CAM CNC Programming capabilities in the industry for CNC Milling, Routing, WaterJet and more. Popular add-on modules are also available for CNC Lathe programming, Artistic CAD-CAM as well as Nesting or sheet optimization which allows you to eliminate scrap and optimize balance between production throughput and material yield. The latest BobCAD-CAM v26 CAD-CAM CNC software has just been updated to provide new powerful and easy to use CAM functionality that is very important for both 2D and 3D CNC machining. The first of these new enhancements is the 2 Axis Corner Rounding Tool and Operation for 2 Axis CNC CAM programming and machining.
New Corner Rounding Tools & Corner Rounding CAD-CAM Machine Operation
The new v26 Corner Round tool type has been added to the Milling Tool Library, allowing you to create toolpath for the corner rounding tools and to simulate this tool type for a more realistic simulation of the actual cut part. Corner rounding tools are excellent for putting that smooth radius on the edges of a part. Corner rounding tools are also used in mold-making to eliminate the danger of sharp, square corners on plastic products. Toy products are a good example where this type of feature would be used in mold making.



In addition, a new Corner Rounding Operation has been added within the Mill 2 Axis Features to allow an easier definition of the profiling toolpath when using a Corner Rounding tool. This is a great new feature for 2 Axis applications that can include simple 2D toolpath for general part machining to custom woodworking or even artistic sign making applications. The new Corner Rounding operation can be added to a 2D machining strategy through the Dynamic Machining Strategies™ in the 2 Axis Machining Wizards.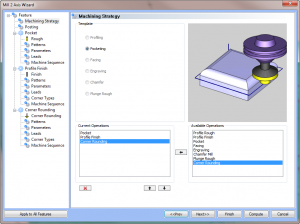 The DMS™ functionality speeds up programming time when performing profiling or pocket machining or any of the BobCAD-CAM software 2 Axis machining strategies. The machining wizards are available for all machining strategies and step you through the programming stage of creating the right toolpaths for your jobs, saving you time and removing the guesswork from using CAD-CAM CNC Software for cutting parts on your CNC machine tool.


Here is a v26 CAM Clip video on the new corner rounding features:



Contact BobCAD-CAM today at 877-262-2231 or 727-442-3554 for more information on how your shop can implement this CAD-CAM CNC Software technology into your machining toolkit! You can also Download a Free Demo and try it out for yourself.