BobCAD-CAM, leading developer of affordable CAD-CAM software, is hosting a 3-day training seminar in the Rock Island, IL/Quad Cities area. Beginning Wednesday, May 13, seminar participants will have the opportunity to become fully trained and professionally certified BobCAD-CAM software operators.
Get BobCAD-CAM Certified | Train for Success
BobCAD-CAM's training solutions empower everyone from the designer to the CNC operator to solve machining problems, find new growth opportunities, and increase shop efficiency. BobCAD-CAM instructional seminars enable you to get the most out of your BobCAD-CAM products.
Seminar attendees will learn how to fully realize the benefits of BobCAD-CAM for CNC programming. The seminar instructor will cover topics ranging from CAD design functionality to machining toolpaths, post processing, operation shortcuts and everything in-between. This course is designed to be interactive so students with any CAD-CAM questions should feel free to bring them.
The main objective of this seminar is for attendees to become proficient in using the BobCAD-CAM CAD and Mill modules. Additionally, BobCAD-CAM instructors will be offering an optional evening course which will cover BobART and Lathe module certification, upon request.
This seminar is perfect for users new to BobCAD-CAM, current BobCAD-CAM clients that want to learn more, users that want to attain professional certification, and anyone exploring CAD-CAM software options.
Click HERE for seminar and registration details. For additional information or to register by phone, call Gus Kasimos at (877) 262-2231 ext. 137.
BobCAD-CAM instructors offer training seminars year-round, in cities across the globe. To find out when a BobCAD-CAM instructor is coming to a city near you, visit our Training Schedule HERE.
Try our free, no obligations software demo today. Click HERE to download.
Here are additional links for information on CAD-CAM training solutions:
Summary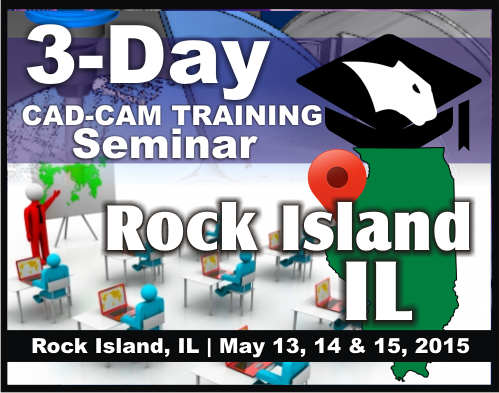 Article Name
BobCAD-CAM to Offer Certification Seminar in Rock Island, IL
Description
BobCAD-CAM instructors will be hosting a training seminar May 13-15 in Rock Island, IL to professionally certify operators of BobCAD-CAM sofware.
Author
Nick Erickson | BobCAD-CAM