BobCAD-CAM, Inc., leading provider of easy-to-use CAD-CAM CNC programming software, is hosting a 3-day training seminar in Macon, GA. The seminar, which begins May 20, will train attendees to become BobCAD-CAM Certified Software Operators.
Expand Your CNC Programming Capabilities at a BobCAD-CAM Training Event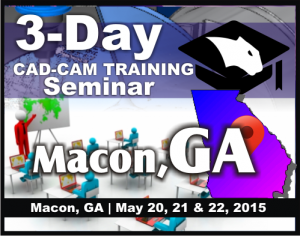 BobCAD-CAM, Inc.'s training solutions empower everyone from the designer to the CNC operator to solve machining problems, explore new growth opportunities, and increase shop productivity. BobCAD-CAM, Inc.'s instructional seminars enable participants to get the most out of their BobCAD-CAM products.
Participants of this seminar can expect to become proficient in using the BobCAD-CAM Mill and CAD modules. Attendees are also encouraged to sign up for the evening courses which will cover certification training for the BobART and Lathe modules.
Seminar participants will discover the full productivity and efficiency benefits of BobCAD-CAM software for CNC programming. Instructors will review everything from CAD design functionality to machining toolpaths, keyboard command shortcuts, post processors and much more. The course is designed to be interactive so anyone with CAD-CAM or CNC programming questions should feel free to bring them.
This seminar is perfect for users new to BobCAD-CAM, current BobCAD-CAM clients that want to learn more, users that want to attain professional certification, and anyone in the market for a CAD-CAM software.
Click HERE for the Macon, GA seminar and registration details. For additional information or to register by phone, call Gus Kasimos at (877) 262-2231 ext. 137.
BobCAD-CAM instructors offer training seminars year-round, in cities across the globe. To find out when a BobCAD-CAM instructor is coming to a city near you, visit our Training Schedule HERE.
Try our free, no obligations software demo today. Click HERE to download.
In other company news, BobCAD-CAM, Inc. has just announced the release of the BobART Training Professor Video Series. [READ MORE HERE] This instructional video series is designed to fully train BobART users on all of the tools and features of the powerful BobART product. Click HERE to order your copy of the new BobART Training Professor Video Series.
Here are additional links for information on CAD-CAM training solutions:
Summary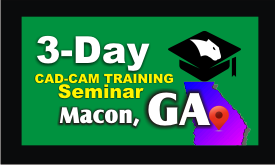 Article Name
BobCAD-CAM Training Seminars Coming To Macon, GA
Description
Seminar instructors from BobCAD-CAM will be on hand in Macon, GA May 20-22 to offer training and professional certification opportunities for Mill, CAD, Lathe, and BobART modules for their CAD-CAM software.
Author
Nick Erickson | BobCAD-CAM