Last month we ran a photo contest through our Facebook Page and asked BobCAD users to submit pictures of themselves wearing BobCAD gear, using our software, or holding parts that were created in BobCAD. We received several dozen impressive entries and chose one entrant to win a swag bag full of BobCAD gear for their shop.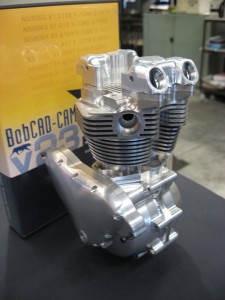 Winner: Chris Wilkins
"This is my 1/3 scale model of a 650cc Bonneville motorcycle engine that has so far been created, programmed and machined using BobCAD-CAM V23. It will be a working model when finished."
Congratulation to Chris Wilkins for winning the photo contest! Every entry was amazing and we'd give everyone a swag bag if we could. Below are a few more entries that were close runner ups.
Patrick McGinty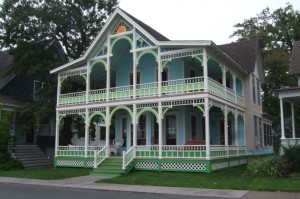 "This summer cottage, located in Thousand Island Park NY, facing the St. Lawrence River was restored from the ground up. Every inch of the elaborate gingerbread was designed on BobCAD and milled in house on our 4×8′ NC router. The turnings were done by creating a 2D profile for our replicating lathe. Note the "leaping bass" in the eves for which the owner suggested art from a vintage Field and Stream magazine, the architect pulled the wave geometries from a classic Lalique vase, and we brought in our Eames Elements company logo – the dragonfly- as the "bait". Each of those elements was drawn in Corel Draw then imported into BobCAD as a .dxf file.
We were able to submit a complete set of drawings to the customer for approval, then send those exact files to the production floor – for %100 fidelity to the customer's wishes."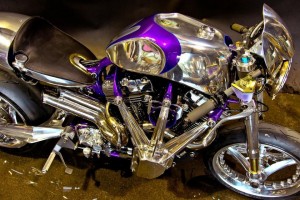 Michael Hogue
"Thought you guys would like to know that every bit of CNC work on this bike, I programmed using bobcad. The triple trees, gauge cluster, control lids, brake brackets, and some others stuff was all 3D modeled in Bobcad! It is Jesse James's 2012 build off bike."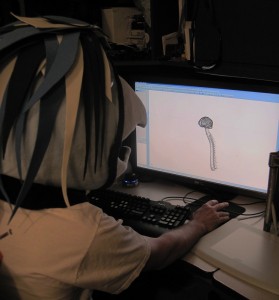 Burr Fee
"preparing dinner!"
This was definitely the most creative entry we received!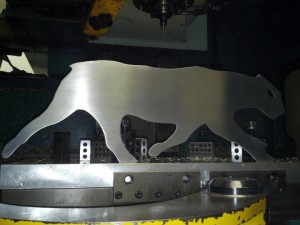 William Bright
"There is a bobcat in my machine; he must think that he owns it or something."
What a flattering entry! This was one of marketing's favorites.
You can view the rest of the entries in our Pinterest album.
Thank you so much to everyone that participated. We appreciate all of your social involvement and look forward to hosting the next Facebook contest!
If you aren't already following us on Facebook, you can join the conversation here.