BobCAD-CAM developed Gold Partner BobCAM for SOLIDWORKS™ to streamline the design to machining process and deliver limitless innovation power for its customers. Wax Rax™ is not only innovating without boundaries, they are helping preserve the art of music. Here is their story.



Wax Rax, founded in 2013 by David Stanavich, began as an extension of their company Brooklyn Custom Metal Fabrication Inc. Stanavich, who has 26 years experience in the custom fabrication field, started Brooklyn Custom in 2004. Prototyping furniture, hardware and architectural details for local firms from 2000 – 2010, years that marked the emergence of Brooklyn's design community, Stanavich transformed his abilities as artist, draftsman and fabricator into a product designer.
As an avid music collector, his love for vinyl records combined with a passion to create fine furniture evolved into the Wax Rax line. With the goal of boutique manufacturing of premier vinyl record storage units and accessories, Wax Rax focuses on the needs of audiophiles and record collectors. Skillfully built from aluminum, brass and steel, Wax Rax brand carts, consoles and shelving present an audio library in its signature designs, optimized to access and preserve vinyl records in style. Their products are built to order from aluminum and steel. Their patented line of carts, consoles and shelving are designed in SOLIDWORKS with style to preserve the art of music they contain. The Wax Rax furniture has been featured in many notable publications and websites that include DesignMilk and Interior Design Magazine.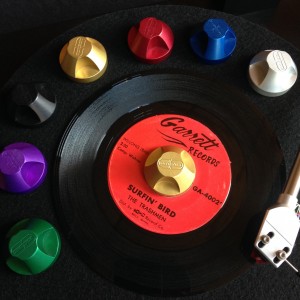 The ability to rapid prototype parts is a valuable tool for small design and manufacturing companies. Rapid prototyping represents a significant expense and potential strain on production cycles if prototype variants are outsourced to 3D print bureaus.
Using SOLIDWORKS™, Wax Rax was able to capitalize on their in-house ability to accurately design parts and assemblies that comprise their patented line of vinyl record storage units and accessories.
Using the Gold Partner CAM add-in, BobCAM for SOLIDWORKS, allowed Wax Rax to rapidly machine prototype parts from solid aluminum in less time than some shops can produce 3D printed parts. Initially, in-house FDM prints of our proprietary hardware were 3D printed from PLA on a MakerBot™ Replicator to vet the visual and tactile aspects of the parts. After design criteria were confirmed through SOLIDWORKS models and 3D printing, the next step was CAM programming.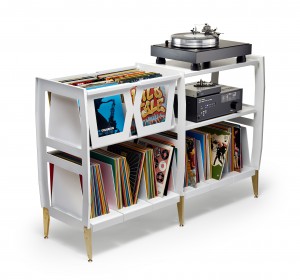 "BobCAM for SOLIDWORKS was used to choreograph CNC tool paths within SOLIDWORKS to program aluminum parts for machining on our Tormach PCNC1100," says Stanavich. "I typically make custom hardware and furniture parts CNC machined from aluminum, brass and stainless steel, and I do have adaptive high speed tool paths in BobCAM, which I find it extremely productive especially in pocketing cavities that have multiple depths and non symmetrical shapes," he adds.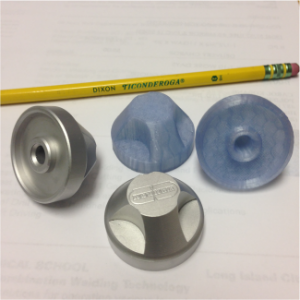 He continues, "Because of the intuitive design functionality of SOLIDWORKS coupled with the machining wizards and capabilities of BobCAM, actual working parts were machined in hours instead of days or weeks." The work flow from concept to market of Wax Rax's 45A vinyl turntable adapter moved in a seamless progression from design to development and included the following stages: CAD, CAM, prototyping, testing, production pricing and patent filing. Wax Rax is proud to announce it received notice in December 2016 that their patent for its 45A vinyl record adapter was approved making this the fifth US design patent in three years for the Brooklyn startup.
Soon the Wax Rax 45A turntable adapter will be available for sale to collectors of 45 rpm vinyl and DJ's across the USA. For the record, Wax Rax is the best!
Combined SOLIDWORKS & BobCAM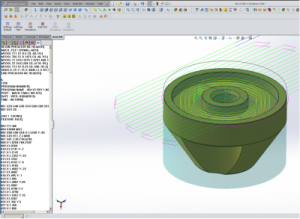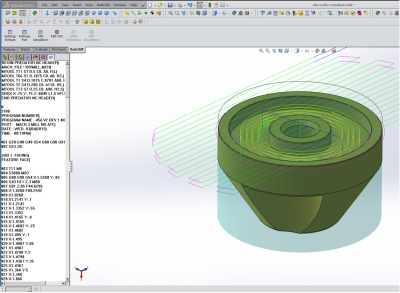 "CAD and CAM capabilities within the same platform is amazing," says Stanavich. BobCAM, integrated within SOLIDWORKS allows for revisions to part geometry and edits to the machine tool paths which is incredibly efficiently. The CAM Tree allows the user to set up stock, job parameters, tooling, machines and choose from a wide variety of machining operations that are wizard driven to remove the guesswork from CNC programming. Dynamic Machining Strategies™ reduce the number of steps it takes to create a job, supporting productivity and much more.
"Integrated machine simulation on the same screen adds to my ability to review and analyze the milling process," Stanavich added.



Built-in collision detection and capabilities to change the operation order, saves time and prevents costly errors from reaching the CNC. The combination of SOLIDWORKS with BobCAM has provided Wax Rax a valuable tool and the ability to machine complex part geometry.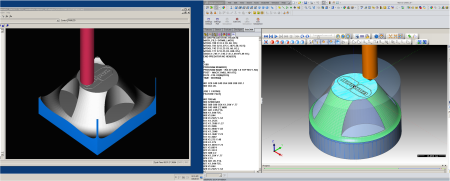 David Stanavich | Wax Rax, Brooklyn Custom Metal Fabrication Inc. | 718-499-0321 | waxrax.com
BobCAM for SOLIDWORKS, a Gold Partner CAM add-in for Mill, provides fast access to powerful machining strategies capable of handling your most complex parts. Built into the latest SOLIDWORKS design software, this product offers a single window integrated CAM solution with advanced 2.5, 3, 4, & 5 axis toolpaths designed to optimize cutting speed and efficiency. BobCAM makes it easy to go from design to finished product in less time. For more information contact BobCAD-CAM at 877-262-2231 or 727-442-3554.



Download a Free BobCAM for SOLIDWORKS Demo HERE