Tech Tuesday is a weekly blog that addresses some of the most common questions and concerns that I hear throughout the previous week from users of BobCAD-CAM software. Both customers and future customers are more than welcome to leave a comment on what they would like to see covered for the following Tech Tuesday. Enjoy!

Transitioning right along from last week's Tech Tuesday about BobCAM V6 Mill 3 Axis, it's the Mill 4 & 5 Axis modules in BobCAM V6 and how they work for you. Whether it's building out a feature that makes it so you don't need to draw additional geometry or it's an enhanced feature that saves you time, intelligent features are baked right into the V6 CAM software. Let's take a detailed look at each feature and how it works for you.

Improved Sequencing Options for Mill 4 Axis Standard

Machine Sequence for Drilling Operations
Improved sequencing options are providing our customers with lower cycle times. As you utilize Cross or Multiaxis Drilling operations, you'll find newer and more effective ways to maximize the sequence's efficiency. Cross Drilling in V6 now offers Along and Around Rotation Axis sequences, even a Custom Direction option that is user-defined.




These options can easily be set to a Zig Zag style sequence with the intuitive ability to "Reverse Each Operation", saving you steps. While using the Reverse Each Operation option, drilling features with multiple operations can have subsequent operations backtrack along the path of your first operation. This keeps the tool from having to move back to the beginning, starting the path over again.
It doesn't matter what kind of Drilling or Tapping you choose to do, you will always be able to manually pick your geometry in whatever order you choose to be machined. If you would rather let BobCAM do the work for you, our software will find the next closest hole automatically.

Mill 4 Axis Pro Enhancements

Extend Edge Curve
We managed another great way to save you from having to create additional geometry with our Extend Edge Curve. This option can be found in the Surface Quality section of Morph Between 2 Curves and Parallel to Multiple Curves. This forces the CAM software into extending the edge curve in the background so your Toolpath won't wrap around the open ends of a curve when the surface extends beyond the ends of the curve.

Exact Stepover Option
There is a brand new option for the Morph Between 2 Curves and Parallel to Multiple Curves Toolpaths to help with surface quality. The Advanced dialog of the Surface Quality section is a Stepover Calculation option, allowing you to select from an Approximate or Exact calculation method.

Subscribe to BobCAD-CAM's Tech Tuesday Blog
Join your fellow machinists. Get the latest Tech Tuesday CAD-CAM articles sent to your inbox. Enter your email below:
Common Direction Tilting Options
Often, while using Multiaxis Toolpaths, it's a good idea to keep the tool normal to the surface at all times. However, there are times where this may cause more movement than the user desires. Using Common Direction, the goal is to find a single tool Axis orientation on either the full Toolpath or a single contour that works with all areas of the selected surfaces. As you utilize this option in V6, the tool is set to a normalized, single direction for all Toolpath points. Additionally, there is an option available for all tilting strategies.




User Controlled Point Distribution
Toolpath point distribution is now under your control with all surface-based Multiaxis Toolpaths. You're now able to enter a maximum/minimum Distance with a Deviation Factor, providing unsurpassed control over the part's final tolerance.

Mill 5 Axis Pro Enhancement

Maintain Tilt
There are instances when the tilt of the tool is based on surfaces being cut greatly shifts over a short distance. This is most noticeable as the surface normal in fillets changes from 90 to 0. The Maintain Tilt option has been added to the Tool Axis Control tab to clean up these issues. Apply this option when the Tilted with Fixed Angle to Axis option is selected.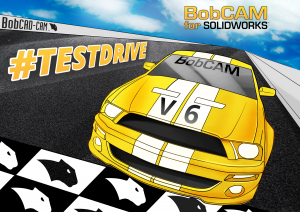 Start your Test Drive.
Have questions? Call us at 877-838-1275.

You're one click away from subscribing to BobCAD's YouTube channel. Click the link below for tips, how-tos and much more!

To see if BobCAD's Mill Turn software is right for your shop,
Summary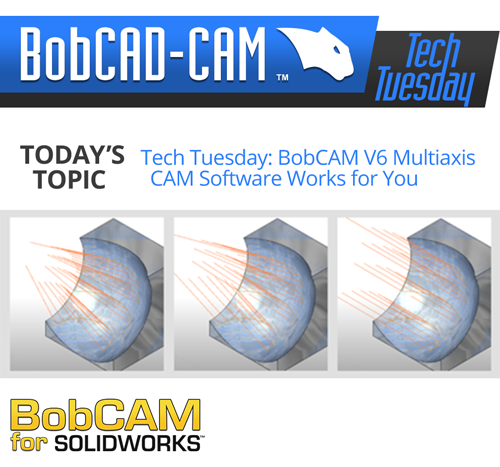 Article Name
Tech Tuesday: BobCAM V6 Multiaxis CAM Software Works for You
Description
BobCAM's V6 4 & 5 Axis modules are packed with time-saving features and enhancements that are centered around an optimal workflow for the end-user.
Author