While CAD-CAM programming continues to advance and pave the way for faster, smarter and more profitable CNC manufacturing, we want to also look at how Conversational programming is also helping manufacturers be on top of their game. In order to do this, we have segmented 3 important aspects of programming so you can understand their differences and make the best technological choices for your machine shop. Here are 3 the things to know more about that will benefit you and your machine shop.
1. Working with Customer CAD Files
In today's era of consumers expecting variety, affordability and instant gratification, manufacturers need to be able to work with 3D models because it is far easier to visualize, use for prototyping and even machine with a CAD-CAM product.



Conversational Programming:
Some conversational programming interfaces allow you to import drawing files, but many do not. Even if you can import a drawing you have limited control over cut order and programming processing.
CAD-CAM Programming:
CAD-CAM systems provide greater control and flexibility when working with customer files. Giving you the ability to work with wireframe, surfaces and solid files. Working offline also allows users to edit drawings if need be. When it comes to CAD editing, it is impossible to deal with CAD changes or bad files that may exist in a model.
While some CNC machines offer file import capabilities they are not capable of opening complex models, disassembling them, making on-the-fly modifications, healing or repairing surface geometry and other issues that can happen. Because of this, there are limited CAD file capabilities at the CNC machine where a CAD-CAM product gives you all of the freedoms you need to generate toolpath, g-code and a CNC program that is perfect.

Subscribe to BobCAD-CAM's CNC Software Blog
Join your fellow manufacturers! Get BobCAD-CAM's latest CAD-CAM articles straight to your inbox. Enter your email below:
2. Part Programming Efficiency
Manufacturers everywhere are always looking for technology that will help them reduce job programming times, eliminate errors and allow them to produce programs with the least amount of effort. CNC machine automation includes advanced toolpaths that offer step reduction, high speed and other cutting features that are fully controlled by the CAM programmer. Before anything is sent to the CNC machine tool, simulation features are used to visualize and inspect toolpaths to eliminate mistakes and save time. Here is a comparison…
Conversational Programming:
Conversational programming offers a quick and effective way to program your parts based on user input. Using canned cycles the machine offers, conversational programming allows you to program your parts. Generally, there are limited choices and options when it comes to programming.
CAD-CAM Programming:
The CAD-CAM programmer can use additional programming cycles that typically are unsupported by conversational programming. Using today's advanced programming cycles offline, programmers have access to adaptive toolpath for high-speed machining, that has major advantages with huge returns for shops. Thus, allowing jobs to run faster and more efficiently using robust modern toolpath routines. Other features include the ability to re-order machining operations for a job, Dynamic Machining Strategies™ and other customizable features.
CAD-CAM software provides a variety of toolpath cutting strategies that support roughing, semi-finishing and finishing. The process is completely automated to save time, reduce errors, increase efficiency and give you back perfect parts at the CNC machine tool. Offline CAD-CAM programming is worth the investment for CNC manufacturing.
3. Complexity of Work
Modern parts manufacturing continues to change and move forward. The powerful features that today's CAD Design software can provide makes it easier to work with 3D CAD models and provide them for all aspects of manufacturing. 3D models are becoming more and more the standard because of the advantages that this gives shops with their customers. Because of the advantages of working with 3D models we'll look at how these models are used in the CNC machining process.
Conversational Programming:
Conversational programming offers a simple and effective way to program parts. Providing a handful of cycles to profile parts, drill holes, cut pockets maybe even thread mill. When programming more complex jobs, conversational programming takes a step-by-step approach which is less efficient when working with jobs that have many programming cycles to be run on them.
CAD-CAM Programming:
CAD-CAM programming offers great part programming organization and flexibility. Users populate a CAM tree with as few or as many cycles necessary to complete the job. They can save and load cutting features from one job to the next allowing for more efficient programming and less chance of error. Because the operator is working off a drawing file, there is no math necessary to program the part's profile, holes, and pockets. Allowing you to program simple or complex jobs with the same ease and flexibility.
Managing a complex CNC programming job can be challenging. CAD-CAM gives you the utilities you need to be flexible, yet in control of the outcome. In the end, CAD-CAM gets complex part jobs done faster, smarter and when it comes to time being money… a lot more cost effective.
Are You Looking for the Best CAD-CAM?
Contact BobCAD-CAM directly at 877-262-2231 or 727-442-3554 for more information about the software.




You're one click away from subscribing to BobCAD's YouTube channel. Click the link below for tips, how-tos and much more!

Summary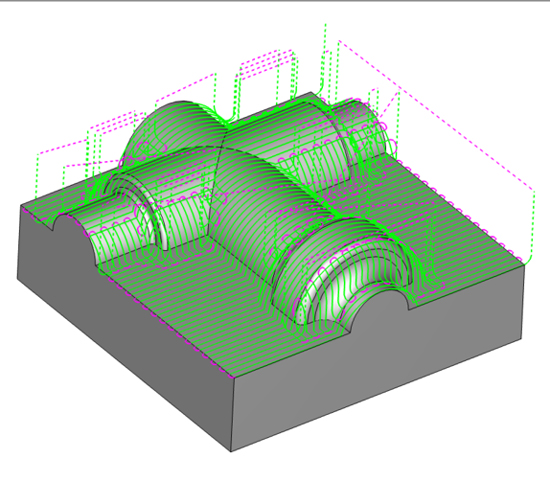 Article Name
3 Things To Consider With CAD-CAM Programming vs Conversational Programming
Description
CNC machine shops rely on CAD-CAM programming automation to remain on the modern edge of part-making. This article compares 3 important points that separate the difference between conversational programming and CAD-CAM programming.
Author