CAD/CAM Technology Solves The 3D Challenge
One of the challenges that CNC shops face when it comes to 3 Axis milling has been in the area of 3 Axis Z-Level milling. This is also known as "waterline" and "Core milling" as well as Z-Level Roughing in the world of CAD/CAM software part programming. When leaving the world of 2D milling and entering the world of complex 3D surface machining, a new set of particular skills are required for generating an accurate and efficient NC program.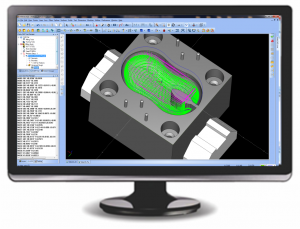 Without CAD/CAM these types of cnc jobs can be nearly impossible due to the math calculations involved. With this being the case, modern cnc software products provide a variety of 3D machining capabilities that continue to give programmers faster, smarter and easier solutions to machining difficult 3D parts. The Z-Level Roughing operations are generally used as a way to remove the majority of the material necessary to perform a semi-finish roughing operation with a smaller tool that has a reduced step over and Z step-down during cutting. These operations are very popular before using a finishing type toolpath operation that will produce a clean surface finish for the part.
Download this latest CAD/CAM Whitepaper and learn how CNC Software advanced roughing technology adds the efficiency you need along with other important benefits to machine your parts faster, smarter and easier!
Topics include:
– 5 Ways CAD/CAM Improves Advanced 3D Roughing
– Advanced Roughing Toolpath Wizards
– How Advanced Roughing Step Reduction Technology Works
– CAD/CAM and REST Milling Operations
– CAD/CAM and High Speed Advanced Roughing Operations
– Advanced Roughing Simulation & Deviation Analysis