Early last Wednesday morning, a team of BobCAD-CAM, Inc. demo technicians arrived at the Orange County Convention Center and began setting up their booth for the world's largest racing trade show. On Thursday morning, another dozen BobCAD-CAM technicians and sales team members joined the booth at the PRI Trade Show in Orlando and demoed the new MultiAxis software all day Thursday, Friday, and Saturday.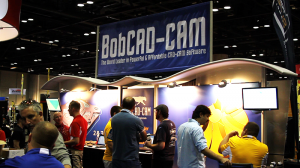 The BobCAD-CAM trade show team had multiple demo stations set up at the booth, which were full for almost the entire show. Demo techs eagerly explained to machinists and racing professionals how BobCAD-CAM software could be used to quickly and easily machine custom automotive racing parts in their shops.
The team got a visit from Mike Becker, from the Harland Sharp division of Summit Racing Equipment, who uses BobCAD-CAM software to design and machine roller rockers and rocker arms. Becker took a few minutes to tell the team about some recent projects he is working on with BobCAD-CAM software, and hung out at the booth to view a V25 software demo from Head Demo Tech Cody Sheppard.
Chris Lafferty, owner and driver for Lafferty Motorsports, also stopped by the booth for a quick chat about cnc machining and it's applications in racing. Lafferty competes in the Camping World Truck Series of NASCAR and uses BobCAD-CAM software to custom manufacture engine parts for his race trucks.
On Friday afternoon, Jeff Lemen, Account Manager at BobCAD-CAM, gave his presentation, "Crossing the Finish Line with BobCAD-CAM," in one of the conference rooms located inside the convention center. His presentation covered the multitude of new capabilities and applications of BobCAD-CAM V25 software, as well as various other grant and education programs that the company has initiated.
Between the seminar and various software demos, the BobCAD-CAM team interacted with a large percentage of the 37,500 buyers and guests over the course of the trade show, and made invaluable connections with new clients and professionals in the racing industry.
For more information on BobCAD-CAM and their new MultiAxis software, contact them directly at 877-262-2231 today or download a trial version of V25 at www.bobcad.com.