CNC Machinist Talk | Richard Hoffman – BWE Firearms | Master Gunsmith
April 26, 2013
BobCAD-CAM recently visited BWE Firearms in Orlando, Florida to meet one of their customers about their manufacturing successes. Richard Hoffman is a master gunsmith and the owner of BWE Firearms. He has been using BobCAD-CAM software since 2002 to design and manufacture the component parts for a variety of products he makes. With a history rich in working with and using firearms Richard finished his formal gunsmith schooling in 1985 and set out to manufacture his line of firearms and needed a solution to cnc machining parts that he would otherwise not be able to create. After discovering BobCAD-CAM software he was able to design the pieces that he needed quickly and then generate the machine program with ease.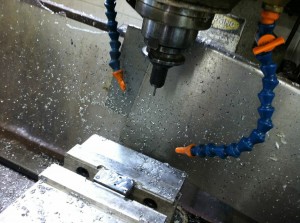 Once he was satisfied with the design aspects he could create the right machine toolpath and cnc programs that he needed to complete his projects and succeed. "The aspects that I like or use the most are probably the wizards in the CAM Tree. I can't say enough about them," Richard commented when we asked him about the CAD/CAM software. BobCAD-CAM directly addressed the job control and ease of use challenges that manufacturers run into when using CAD/CAM software by developing "Wizards" that step the operator through the machining process of creating a program for a cnc machine tool to use. The machining wizards remove the guesswork and organize the entire process. The software categorizes the machining processes so that the operator can easily select the one that is needed. Then the wizard guides the operator through geometry selection, tool selection, posting parameters, toolpath styles and the many parameters that dictate what the toolpath will look like and actually do when the tool is cutting the material. This also includes special options for tool step-over, depth controls, tool lead-ins and lead-out and a lot more.
One very important thing for Richard was the affordability of the BobCAD-CAM software. He had a lot to say about the affordability of the product and how small shops like his can afford it as opposed to some of the other CNC software products on the market today. This is his story and success with BobCAD-CAM CNC software.
BobCAD-CAM software is used by thousands of CNC businesses throughout the world. Try a FREE demo of our powerful and affordable CAD/CAM software here.