Machine shops that do mostly production machining can benefit from integrating a CNC software into their manufacturing toolkit as there can be multiple variations of the parts being machined and a need for fast access to a large variety of CNC toolpaths.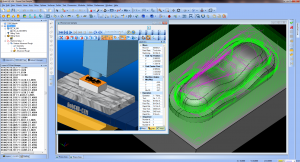 A good example of this can be found in beverage container production manufacturing. The molds may differ in design while the general concept is still the creation of a beverage container. The general part models can be similar, yet one having more intricate detailing in the mold that requires the appropriate toolpath strategy such as Equidistant offset contouring and a REST finishing toolpath combination.
Subscribe to BobCAD-CAM's CNC Software Blog
Join your fellow manufacturers! Get BobCAD-CAM's latest CAD-CAM articles straight to your inbox. Enter your email below:
An easy to use CNC software can provide a Save and Load feature for quickly and easily working with machining templates. A previously saved machine template can be opened up in the system CAM Job Tree and modified using Dynamic Machining Strategies™ that apply any combination of 3 Axis machining operations to a CAD feature in the new model. This alone can be found to streamline production through the use of CAD-CAM, CNC Software. This is due to the fact that individual CAM machining strategies do not have to be individually called upon and loaded into the CAM Job Tree and individually associated to CAD geometry over and over again. DMS™ eliminates repetitive action and streamlines CAM to CAD model association for production efficiency. The results can include up to a 30% reduction in programming time. That's big in the land of production machine programming.
How Does BobCAD-CAM Positively Affect Production Manufacturing?
BobCAD-CAM CNC software is an integrated CAD-CAM software for all levels of CNC machining applications. 2 Axis toolpaths include profile milling and pocket milling with options that allow the optimizing of approach speeds into arc corners, patterns and even High Speed Adaptive Roughing toolpaths that are engineered to improve cycle times and the quality of the finished part while reducing tool wear and enhancing the life of the machine tool itself. There are a variety of 3 Axis roughing and finishing toolpath strategies that incorporate traditional "waterline" or Z-Level roughing and finishing as well as 3 Axis plunge Roughing and powerful finishing strategies that maintain tool step-over regardless of surface complexity, REST, Pencil and more. These are all toolpath machining strategies that a production machining operation should consider for optimum speed and flexibility in completing complex jobs. The BobCAD-CAM 3 Axis Mill Professional CAM Programming software offers the best value under 4 and 5 Axis machining technology. All levels of BobCAD-CAM software use Dynamic Machining
BobCAD-CAM has provided CAD-CAM CNC Software products to the global manufacturing industry for over 35 years. BobCAD-CAM software can be found to increase CNC productivity for many applications including educational and independent hobby home use. Products include machining technology for 2, 3, 4 & 5 Axis CNC milling, routing, waterjet, plasma and laser machines as well as 2 axis CNC lathe. BobCAD-CAM also provides a variety of quality training products that include regional and online training classes or private sessions tailored to specific applications. Professional certification can be acquired as well as multi-tiered technical support solutions to their service customers.
Try a Free Demo HERE