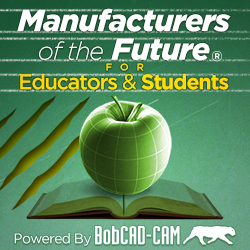 BobCAD-CAM has been developing computer aided design and manufacturing software since the early 80's. They recognized the need to provide schools and students of the manufacturing sector with a solution to real world challenges that exist. Schools that teach Design and CNC machining have been experiencing a growing need for software technology to not only design things, but to create machine programs that will work with their CNC mills, routers, lathes and other computerized machinery. The challenge has been in finding software that is powerful and robust enough to meet curriculum demands that will also fit within the shrinking program budgets that schools have been dealing with.
Secondary to these challenges, graduating students are stuck with having to purchase the software that they were trained on regardless of the large associated price tags that have plagued CAD/CAM software markets for decades. BobCAD-CAM decided to do something about it by launching a new educational program titled, "Manufacturers Of The Future." This new program has dual focuses which directly address school curriculum, software lab licenses and their budgets as well as provides a relief package called, "The Student Work Ready" program. The Work Ready program caters to the students which allows them to finish school and enter the manufacturing workforce armed with the CAD/CAM CNC programming software they need in order to make a immediate and positive impact at the CNC business that they go to work for.
See more on the Manufacturers Of The Future program HERE.
You can also download Free CAD/CAM – CNC Software Whitepapers HERE.
Are you a school or future manufacturer? If so, watch this video.