The following is applicable to Standard 45 Degree Chamfers. Enjoy.

Often prints that are delivered using standard GD&T callout dimensions for Chamfers using a diameter value and not a specific size.





With the drawing above, we have 4 holes that will be predrilled to a diameter of 0.201 for the ¼-20 tap. The chamfer diameter that is called for is defined as a 0.295 diameter.

In the BobCAD-CAM solid chamfer command, the input asks for a chamfer value.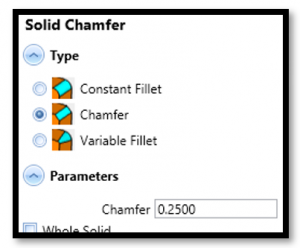 Subscribe to BobCAD-CAM's CNC Software Blog
Join your fellow manufacturers! Get BobCAD-CAM's latest CAD-CAM articles straight to your inbox. Enter your email below:
The input value that is being asked for is the distance across the face of the chamfer
(The blue portion in the above image)
. The following steps walk you through exactly how to determine the correct value to input so you can end up with a properly sized chamfer that's called for in the drawing.
Calculating the Chamfer
1. Take the size of the desired chamfer and subtract the size of the existing hole.

Desired Chamfer = .295
Existing Hole = .201
.295 – .201 = .094

2. Now divide the result by 2 to find the distance of just 1 side.
.094 / 2 =.047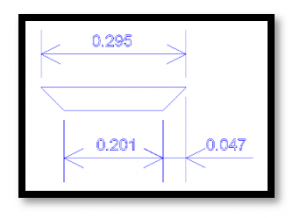 3. Now we need to find the distance of the chamfer face (Hypotenuse) of the triangle.
I.
Using the formula A² + B² = C², we can solve and get the necessary value.



II.
(A² = .002209) + (B² = .002209) = C²
III.
You get (.004418) = C²
IV.
To find the result, you use the Square Root function, converting to our value.

C = .06646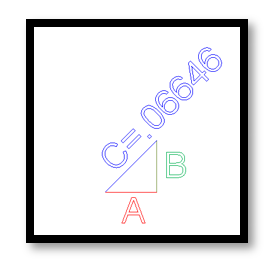 Taking the value found above, you can enter this into the Chamfer field inside the Solid Chamfer command.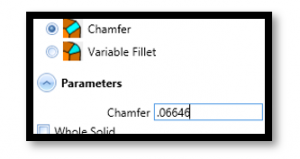 The result is a chamfer that is created .295 diameter as needed.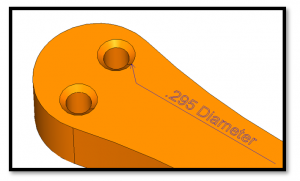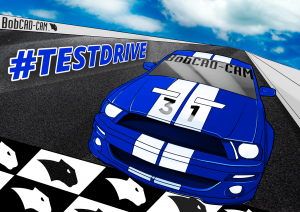 To see if BobCAD's latest CAM software is right for your shop, take a Test Drive of V31 by downloading a demo and then schedule a one-on-one screen share with our CAD-CAM specialists to get a personalized demonstration of the software. Want to connect instantly? Call us at 877-838-1275.

You're one click away from subscribing to BobCAD's YouTube channel. Click the link below for tips, how-tos and much more!

To see if BobCAD's Mill Turn software is right for your shop,
Summary
Article Name
Create Chamfers Based on the Desired Major Diameter with CAM Software | CAD-CAM Quick Tips
Author