It's almost the most exciting time of the year… Tax season! Who couldn't use a tax break, right? From now until December 31, 2018, your business can take advantage of the "Section 179 Tax Deduction" and it is easy to do.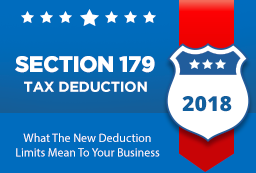 What It Is and How It Benefits You
As an extra incentive by the U.S. Government to encourage businesses to buy relevant equipment/software and invest in themselves, Section 179 allows businesses big and small to fully write off these investments. Meaning, if you purchase or lease qualifying software, like BobCAM or BobCAD, you can fully deduct the total purchase price from your gross income. The price limit is set at $500,000.00, but businesses that exceed that limit can take a one-time, bonus depreciation of 50% the amount that exceeds the limit. Want to see it work in person? Try the Section 179 calculator now.
For more information about what software qualifies, click HERE or contact your accountant.