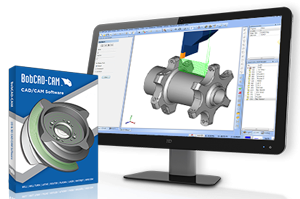 Hobby CAD-CAM software isn't just for the independent home shop machinist anymore since the release of the BobCAD's latest CNC Software. At a glance, the CNC software's affordability indicates it's a fit for the DIY Home Machinist community. It doesn't take long to discover that our CNC software products offer big shop power for a small shop price. Staying true to BobCAD-CAM tradition by offering high powered CAD-CAM products and competitive prices, we decided to develop of a slightly scaled down version of the latest Express Milling product and simply turned off some of the advanced features hobbyists would rarely if ever, need. Thus, creating a quality CAD-CAM program priced for any home machinist, hobbyist, student or start-up CNC business.

BobCAD's latest CNC software offers a full compliment of 2D machining features and 3D Planar surface Milling strategies so that the operator still has a 3D advantage for more complex parts. Over 160 CAD Design features make up a classic hybrid solid and surface modeler for those that need to innovate or import popular CAD files from other design products for machining. The CAM Tree offers the toolpath on-the-fly editing associativity that the higher level modules have including cutting conditions, tool patterns, multi-tool drilling cycles, material and tool libraries and a simplified stock wizard that allows the user to create the part stock. Machining operations are considered "features" and include machining wizards that step the operator through creating Toolpath for the part.

Subscribe to BobCAD-CAM's CNC Software Blog
Join your fellow manufacturers! Get BobCAD-CAM's latest CAD-CAM articles straight to your inbox. Enter your email below:
BobCAD-CAM is proving that powerful CAD-CAM software doesn't have to be priced out of a hobbyists range. Seeing is believing with BobCAD software. We also provide in-depth training videos for anyone who wishes to master the software quickly. Another nice aspect of the way BobCAD-CAM has developed this product is that it is "Modular". This means that as a small shop or home shop grows, they can add on higher levels of software at low cost, bringing new Toolpaths and machining functionality to their software. These modules include advanced 3 Axis machining and high-speed Toolpaths, 4 Axis rotary & wrapping and 5 Axis machining technology.


For more information about the newest version of BobCAD CAD-CAM software, contact us directly at 877-262-2231 or 727-442-3554. Want to try our CAD-CAM software for yourself? Download a demo of the latest BobCAD-CAM software HERE!
You're one click away from subscribing to BobCAD's YouTube channel. Click the link below for tips, how-tos and much more!