Chris Serio is a longtime BobCAD customer and quite the experienced machinist. His experience ranges from working at Richey Enterprises, a small oilfield job shop to working for Screening Systems International, an international provider & servicer of traveling water screens. "I mainly work with Haas, Okuma and Mazak vertical Mills & horizontal Lathes… mostly used for 4 axis Mills," says Serio. Some of the parts he produces with BobCAD-CAM software are oilfield/downhole tools & assemblies, parts for cars & trucks, high-performance engine parts, petrochemical plant parts and much more!
When asked if there were any projects that stood out to him as significant over his years of working with BobCAD, he gave me a few examples. "There was a pretty detailed, 24" propeller for the petrochemical industry that I made and that thing was a thing of beauty. There were some 5-ton military truck locking hubs and a high-performance engine intake for outboard mud motors; Briggs and Stratton engines," says Serio.
So, what led Chris to BobCAD-CAM software and what exactly does he like about it so much? "I really like the advanced roughing feature (using solid part geometry and solid stock). It allows me to use high-feed tooling (5-7 flute endmills) as they are designed to be used.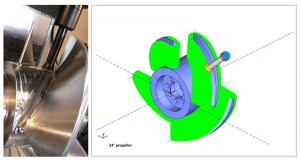 Light radial depths of cut and full flute length of tool axial depth with super-fast feedrates… a recipe for even tool wear and significantly reduced cycle times. I can't forget the multiaxis, surface-based toolpaths in BobCAD-CAM. I have shops in my area that are using more expensive software but run the same multiaxis kernel embedded in their software and they call me for the 'How'd you do that' questions… BobCAD allows me to program 5 axis parts in a 4 axis machine," Serio explained.
Subscribe to BobCAD-CAM's CNC Software Blog
Join your fellow manufacturers! Get BobCAD-CAM's latest CAD-CAM articles straight to your inbox. Enter your email below: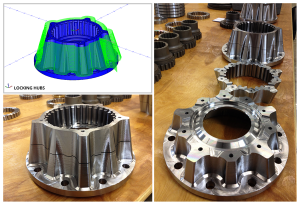 Before he found BobCAD's CNC software, Chris was using basic 3 axis 2D CAM software. Once he had a need for multiaxis capabilities, he began to look for a low-cost solution, because like most, he was working with a tight budget. "BobCAD gave me the opportunity to experiment with multiaxis CAM software without going head over heels into a 20-25,000 dollar package," said Serio. Beyond the affordability and machining power that BobCAD provides Chris, he really enjoys how great our Support staff is to work with. "I work with the post department on a first name basis so the tech knows who you are and your machine. This helped out big time with tweaking the software for an Okuma Mill we were having trouble getting feedrates right for… their staff knew exactly what I needed and even had direct contact with Okuma America & overseas crews to figure out parameters in the machine," Serio said gleefully. Another strong testament to our outstanding Support team!
Question about 4 Axis programming?  Click Here to let us know
You're one click away from subscribing to BobCAD's YouTube channel. Click the link below for tips, how-tos and much more!