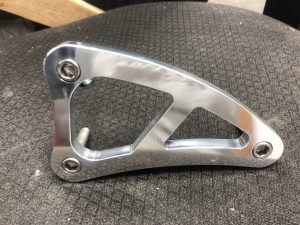 Joe Fiorito makes all kinds of wonderful products in his converted two-story, 3-car garage in Illinois. He designs and fabricates all of his parts on his CNC Mill machine. He tells me, "I have a Series 1 Bridgeport with EZ Vision CNC 3-axis controls, a 13 X 36 gap bed lathe, Miller 250A Syncrowave TIG welder, 7HP Champion air compressor and plenty of other tools. I use BobCAD-CAM exclusively to design and fabricate parts on my mill. Most of the parts are automotive related."

Before he was introduced to BobCAD, Joe was using other popular CAM software systems. Although they were good enough to do what he needed initially, Joe found himself looking for something better. It was his demo with us that persuaded him to become a customer. "BobCAD was a game-changer. My initial live demo opened my eyes to see how much faster and easier it was to use to design and create toolpaths. I've been hooked ever since," explains Joe.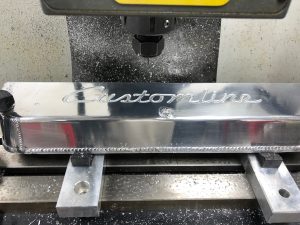 Joe has been a repeat customer since then, staying current on his last 2 versions (V30 & V31). Staying current makes it easy for him to pick up the next version release with minimal disruptions to his workflow. In the event he ever does get lost, he just turns to our Youtube channel. "Quite honestly, the YouTube videos are my best source of training and troubleshooting. It takes a while to understand the lingo and steps necessary to create a part. BobCAD is fairly intuitive but it takes lots of trial and error if you're new to CAD-CAM," says Joe.

Out of all his creations, I asked Joe if he had anything he recently manufactured that he was really happy with the results. He said, "I've made some nice brackets and mounts for my 1956 Ford Customline restomod (restomod refers to a restoration of an old car with significant modifications to bring the car up to today's standards)." A true testament to the types of complicated things that BobCAD is capable of doing!


As we concluded our interview, I asked Joe if he would ever recommend BobCAD to other shops or friends. He told me, "I absolutely would recommend BobCAD for any size shop that is looking for a value-priced product that gets the job done! V31 has some nice features that quickly shows points along lines, but my favorite feature is still the simulation. It really helps you plan your steps and makes sure things go as planned." It just goes to show, no matter how many bells and whistles something new has, the classics will always be the classics.



If you are interested in seeing what BobCAD-CAM software can do to maximize your shop's productivity & bottom line, download a copy and try it out today.

You're one click away from subscribing to BobCAD's YouTube channel. Click the link below for tips, how-tos and much more!



BobCAD-CAM has provided CAD-CAM CNC Software products to the global manufacturing industry for over 30 years. BobCAD-CAM software can be found to increase CNC productivity for many applications in aerospace, automotive, production manufacturing, mold making, general machining, woodworking as well as the medical manufacturing industry, consumer products, musical instruments, custom fabrication, defense industry and many others due to the products ability to automatically generate NC programming code for such a wide variety of CNC controllers. BobCAD-CAM software is also found in educational institutions throughout the world as well as independent hobby home use. Products include machining technology for 2, 3, 4 & 5 Axis CNC Milling, Routing, Waterjet, Plasma and Laser machines as well as 2 Axis CNC Lathe. BobCAD-CAM is modular allowing shops to start off at a reduced technology level and add technology as it is needed including an add-on, BobART, for artistic machining. Unique technology includes adaptive high-speed machining multiaxis milling and routing which is a first in the world of CAD-CAM software. BobCAD-CAM also provides a variety of quality training products that include regional and online training classes or private sessions tailored to specific applications. Professional certification and multi-tiered support solutions are available. Contact BobCAD-CAM directly for more information at 877-262-2231 or 727-442-3554.