Tech Tuesday is a weekly blog that addresses some of the most common questions and concerns that I hear throughout the previous week from users of BobCAD-CAM software. Both customers and noncustomers are more than welcome to leave a comment on what they would like to see covered for the following Tech Tuesday.Enjoy!
Welcome to another wonderful Tech Tuesday! With the release of the new BobCAD-CAM V30 comes a lot of great features that are establishing industry standards. Improving cycle times and creating a more user-friendly experience is the foundation on which V30 was built. So, what do these features mean to you? Let's look at why V30 is a must-have CAD-CAM software for anyone doing CNC work!
Enhanced CAD Picking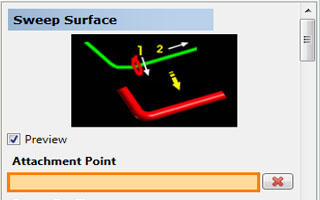 In an effort to make it easier for the user to edit and correct selections for design, we made it so all selected geometry items are now displayed. We also gave you more control to delete geometry, reverse chains and adjust the order of selected geometry. That's working smarter, not harder!
Multiple Enhanced CAD Functions
The next great feature in V30 is specifically designed to dramatically speed up design work. How? Single-click picking for chamfering and filleting as well as a new Sharp Corner Offset option means fewer steps for you in design. The new multi-line text alignment feature gives you Windows-like control over whether your text is centered or adjusted left or right. And probably my favorite new addition to V30 is the Scale Sketch Handle tool that allows users to select and drag their geometry to the size they want. No more sizing through guesswork, what a relief.
Measure Tool Enhancements
For users who work with 3D designs, this feature allows you to measure directly off edges, vertices and snap points on solids and surfaces for the most accurate measurement. Graphical flags provide visual dimensions for a quick and easy reference to the size of your model.
Toolpath Editor
This unique editor is something that people will really come to love as they use V30 more and more. Programmers now have the options to modify individual entities in the Toolpath, delete portions of the Toolpath and edit Feedrates of individual Toolpath entities without affecting other functions. Another cool feature? Easily convert Toolpath into CAD geometry. All in the interest of unrivaled control over all aspects of the Toolpath.

Subscribe to BobCAD-CAM's Tech Tuesday Blog
Join your fellow machinists. Get the latest Tech Tuesday CAD-CAM articles sent to your inbox. Enter your email below:
Enhanced Selection Tools for Machining Features
So you like a smooth workflow? Us too. We made it so you can choose your geometry and set the direction of cut, top of feature and depth all in one simple dialog. Bringing these features together means a better-streamlined programming workflow when using any Toolpath Wizard.
Geometry Extension and Trimming for 2 Axis Machining
Use this enhancement to extend out or trim back your open profiles. You can apply common adjustments to the cutting geometry without the need to edit the geometry directly. Huge Time Saver!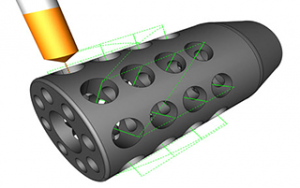 Multiple Drill Sorting Options
More options while drilling means greater efficiency. This is achieved with new X, Y and custom direction sequencing options for users. Also, our Reverse Each Operation function lets you track back along the path of the first operation.
Multi-Depth Chamfer Cutting
Did you ever want to use any size chamfer tool to cut any size chamfer? Wish granted in V30. Employ the Multiple Depths options to set the depth of cut, Stepover and control the order of each of them. Additionally, the new Minimize Retract Feature will eliminate the tool going to clearance between every depth of cut.
Multiple Enhancements to the 3 Axis Pro Toolpaths
3 Axis Pro Toolpaths receive multiple enhancements that provide more tool control and smoother material entries and exits, keeping tool stress to a minimum. The Dynamic Holder Collision Avoidance function will gouge check the holder against the in-process stock as the tool is cutting; what a way to keep it moving! We also give you new Arc Leads option for Advanced Rough and Adaptive High-Speed Toolpaths, giving more control over your tool's entry position.
Lathe Toolpath Trimming to Stock and Stock Tracking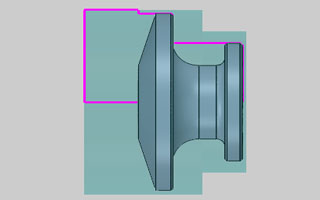 Lathe gets a big upgrade with 2 hard-hitting features that are sure to cut down on your programming time. The new Stock Tracking feature automatically keep track of the stock condition as you run your turning cycles. This is a powerful feature because of Trim to Stock. Using both the Stock Tracking and Trim to Stock users can eliminate air-cuts by focusing turning cycles exclusively on where the stock is. For the programmer, this will allow you to program Toolpath faster while reducing those cycle times. If time is money, get rich with these amazing functions.

The bottom line is we made a more user-friendly experience while accomplishing more tasks in less steps. Ultimately cutting down on time, allowing you to become more productive. Thank you for reading another Tech Tuesday; see you next week!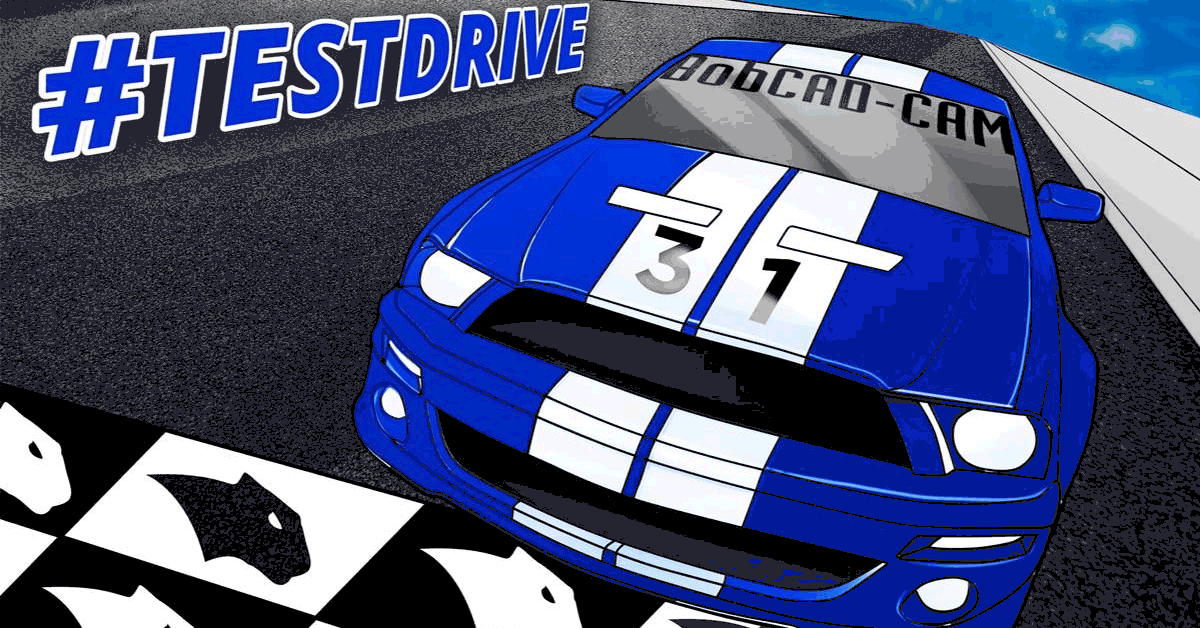 Start your Test Drive.
Have questions? Call us at 877-838-1275.

You're one click away from subscribing to BobCAD's YouTube channel. Click the link below for tips, how-tos and much more!

To see if BobCAD's Mill Turn software is right for your shop,
Summary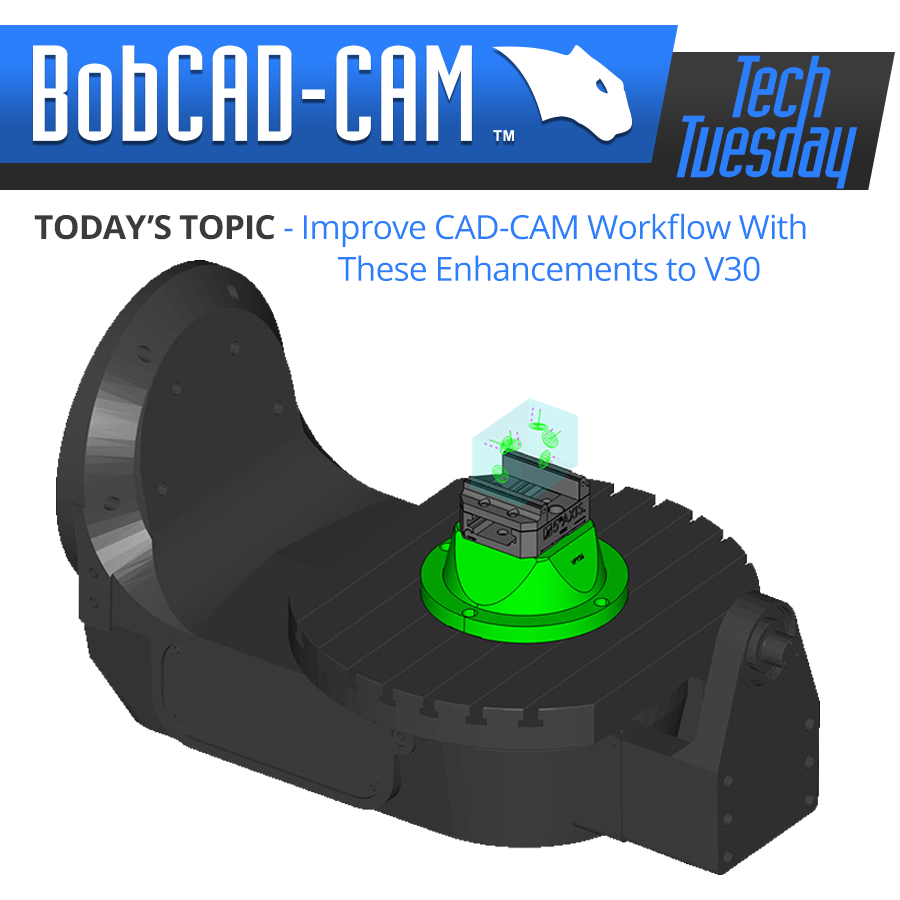 Article Name
Improve CAD-CAM Workflow With These 10 Enhancements to V30
Description
Improving cycle times and creating a more user-friendly experience is the foundation on which V30 is built. Let's take a look at the top 10 enhancements in V30.
Author