The latest releases of BobCAD-CAM CNC Software offer powerful simulation functionality allowing many new capabilities. One of these new simulation utilities is Part Deviation Analysis. This utility is like a diagnostic tool that allows a user to define tolerance ranges for part deviation and display on the cut model. The simulation analysis exists for you to define colors to various deviation tolerances. This functionality is a great way to see exactly where left-over material will be not only for milling toolpaths but for drilling operations as well.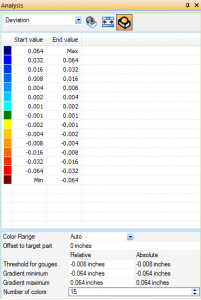 As the toolpath is simulated these colors are made visible representing deviations as well listing them in the deviation analysis tab. This tab is customizable by you.
This type of analysis helps the programmer to determine surface finishes and also to find areas where stock may be remaining due to a tool being too large to fit in an area. Using this powerful feature to eliminate guesswork allows users of BobCAD-CAM to work more efficiently and with confidence.
Multi-Tolerance Deviation Analysis Simulation: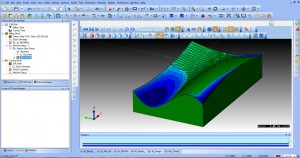 Deviation Analysis shows where a cutting tool did not go before you actually run the program on the cnc machine.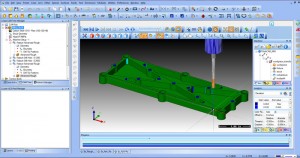 This simulation functionality is available in the latest BobCAD-CAM software as well as the latest version of BobCAM for SolidWorks. Take a free trial evaluation today at www.bobcad.com or contact us directly at 877-262-2231.