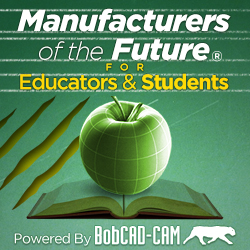 BobCAD-CAM has been developing CAD-CAM software since the mid-'80s. We recognized the need to equip schools and students of the manufacturing sector with a solution to real-world challenges. Schools that teach Design & CNC machining have been experiencing a growing need for software technology that will work with their CNC machinery. The challenge? Finding software that is powerful and robust enough to meet curriculum demands that will also fit within the shrinking program budgets that many schools have been dealing with.

BobCAD understands that in order to have trained professionals that are 'Work Ready', it starts in the classroom by properly equipping the Manufacturers of the Future. It's our mission to give educators and future manufacturers affordable access to our latest software, training and support. Our simplified, user-friendly interface makes it easy for students to identify the functions they need with minimal steps to get there.


Subscribe to BobCAD-CAM's CNC Software Blog
Join your fellow manufacturers! Get BobCAD-CAM's latest CAD-CAM articles straight to your inbox. Enter your email below:
Make CAD-CAM easily accessible
Provide relevant, current teaching resources for educators and students that enhance the learning experience
Provide an affordable, modern CAD-CAM system to students. This allows them to do projects at home and eventually take it with them into their design & manufacturing careers beyond graduation.

The Work Ready program caters to the students, allowing them to finish school and enter the manufacturing workforce armed with the CAD-CAM CNC programming software & knowledge they need in order to make an immediate and positive impact with the manufacturers that they go to work for.






You're one click away from subscribing to BobCAD's YouTube channel. Click the link below for tips, how-tos and much more!


BobCAD-CAM has provided CAD-CAM CNC Software products to the global manufacturing industry for over 30 years. BobCAD-CAM software can be found to increase CNC productivity for many applications in aerospace, automotive, production manufacturing, mold making, general machining, woodworking as well as the medical manufacturing industry, consumer products, musical instruments, custom fabrication, defense industry and many others due to the products ability to automatically generate NC programming code for such a wide variety of CNC controllers. BobCAD-CAM software is also found in educational institutions throughout the world as well as independent hobby home use. Products include machining technology for 2, 3, 4 & 5 Axis CNC Milling, Routing, Waterjet, Plasma and Laser machines as well as 2 Axis CNC Lathe. BobCAD-CAM is modular allowing shops to start off at a reduced technology level and add technology as it is needed including an add-on, BobART, for artistic machining. Unique technology includes adaptive high-speed machining multiaxis milling and routing which is a first in the world of CAD-CAM software. BobCAD-CAM also provides a variety of quality training products that include regional and online training classes or private sessions tailored to specific applications. Professional certification and multi-tiered support solutions are available. Contact BobCAD-CAM directly for more information at 877-262-2231 or 727-442-3554.