BobCAD-CAM, Inc., a world leader in powerful and affordable CAD-CAM software, will host a 3-day training seminar in Manchester, New Hampshire from August 5 through August 7.


BobCAD-CAM training events are designed to help machine shop owners, mangers, part designers, and machine programmers get the most out of their CAD-CAM software system through powerful CNC programming skill enhancement lessons. The instructional seminars empower participants to solve everyday machining problems and uncover CAD-CAM software functionality that can lead to better production performance and increased shop profitability.
CAD-CAM Software Training
An Investment In Yourself
Attendees will take part in detailed lessons that give a complete software overview of the BobCAD-CAM Mill and CAD modules. The instructor will lead detailed walkthroughs on software shortcuts, CAD 2D & 3D drawing, selection methods, CAM tree overview, 2-5 axis toolpaths, simulation, and much more [Click here for a full curriculum]. It will cover the information necessary to become a professionally certified BobCAD-CAM software operator. This training event is designed to be fully interactive so participants are encouraged to bring questions.
Separate evening courses will also be offered for attendees of this seminar. The additional classes are scheduled to offer in depth information and training for the BobART and Lathe modules.
This CAD-CAM software seminar is designed for new or occasional users of BobCAD-CAM, experienced BobCAD-CAM users that want to know more, and anyone looking to become a professionally certified CAD-CAM software operator.
CLICK HERE to register and explore the full list of topics to be covered. For more information or to register by phone, you can call Gus Kasimos of BobCAD-CAM at [877] 262-2231 ext. 137.
BobCAD-CAM instructors provide training seminars year-round, in cities across the globe. Visit the BobCAD-CAM Training Schedule to find out when a CAD-CAM software instructor is coming to a city near you.
Have you tried the new V28 BobCAD-CAM yet?

Other CAD-CAM News:
BobCAD-CAM Releases Version 28 CAD-CAM Software – See what's new here…
BobCAD-CAM Releases v28 Mill Turn Software Module – See it here…
Here are additional links for information on CAD-CAM training solutions:
Summary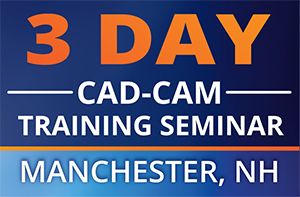 Article Name
New CAD-CAM Software Training Event Comes to Manchester, NH in August
Description
BobCAD-CAM is set to host a CAD-CAM software certification training course in Manchester, NH for the Mill, CAD, Lathe, and BobART modules August 5-7. Learn more...
Author
Nick Erickson | BobCAD-CAM