April 5, 2012 – BobCAD-CAM has released its new Training Video Professor Book and Video Box Set allowing BobCAM for SolidWorks users to learn the ins and outs of their software. The BobCAM CNC software works directly inside of the SolidWorks design system so that manufacturing can take place in one intuitive interface without having to export files into external CAM software. As the BobCAM software is now a Gold Partner product they completed the most comprehensive body of training that has ever been created for the BobCAM product.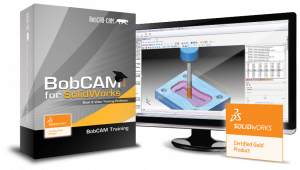 "The ultimate goal of the Training Professor Video Series is to ensure that our BobCAM customers can learn through real world examples and at a pace that is comfortable for each user individually," said Sean Owen the Director of Support & Training at BobCAD-CAM.
The new training box set includes 10 CD's containing over 55 training videos, an 835 page digital workbook and all of the CAD files used in the videos. The customer can watch a video, open the workbook and do a lesson and then load the part file for using the toolpath features to get practical experience. This experiential learning process accelerates the overall experience to produce "pro" users fast.
Owens added, "Now users can train in the comfort of their own office or on the road making training easier for everyone using BobCAM and it's so affordable everyone can acquire it."

To learn more about the new BobCAM Training Professor click here.