North Georgia Molding, located in Ellijay, Georgia, is a small, privately owned machine shop that got its start in 2012. They are a family-owned company that originally started out doing small jobs for other companies without the use of CAD-CAM software. Now, they make their own molds, doing plastic injections for clients that send over premade models. General Manager, Timothy Mason, tells me that when they started out, they only had manual machines. A few manual Mills, a manual Lathe and manual EDM machines.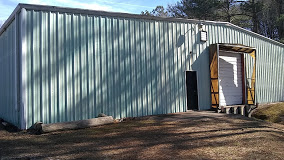 "As word began to spread, we started getting more orders," said Timothy. To satisfy this surplus of business, Timothy and his family turned to a Mitsubishi EDM, Haas VF-3 and a Tree 350 with the dynapath controller. The only thing missing was a good CAD-CAM system to power those machines. He and his family settled on BobCAD-CAM CNC software because of its affordability and because it is powerful enough to do what they need it to do. Knowing that his biggest challenge was going to be getting used to the software, Timothy joined us here in Clearwater, Florida at BobCAD's headquarters for our In-House Training. He was assigned a private instructor that began customizing a class around his part files and exact needs.

Subscribe to BobCAD-CAM's CNC Software Blog
Join your fellow manufacturers! Get BobCAD-CAM's latest CAD-CAM articles straight to your inbox. Enter your email below:
When asked what exactly he and his shop makes, Timothy told me, "Everything." For example, during his training session, he was creating a plastic mold of a grill for a BMW in BobCAD-CAM's latest software, V30. The various parts he and his shop produce can be as small as a fingernail to as big as several feet in length. "Our process is that we make our setup, create the program and then test it out in simulation to make sure there aren't any issues. We rely on a multitude of BobCAD software features to make money and increase their profitability, but primarily we use the Z level rough and Z level finish Toolpaths," says Timothy.

When asked if he had any issues with BobCAD, Timothy said this: "The only issue I (we) had was a lack of knowledge on how to use it to its fullest capabilities. Besides that, with every issue we've ever had, you guys have been right on top of it… ya'll are great." Once he started doing training, he said that there was a lot more flexibility for designing and machining on his end. "We like BobCAD and we are going to keep using it'" Timothy reconfirms. After his In-House Training at BobCAD-CAM, Timothy has a greater range of capability with the software and is using more complicated Toolpaths in his daily work.

To purchase or for more details on BobCAD products, contact us today at 877-262-2231 or 727-442-3554.
BobCAD-CAM has provided CNC Software products to the global manufacturing industry for over 30 years. BobCAD-CAM software can be found to increase CNC productivity for many applications including educational and independent hobby home use. Products include machining technology for 2, 3, 4 & 5 Axis CNC Milling, Routing, Waterjet, Plasma and Laser machines as well as 2 Axis CNC Lathe. BobCAD-CAM also provides a variety of quality training products that include regional and online training classes or private sessions tailored to specific applications. Professional certification can be acquired as well as multi-tiered technical support solutions to their service customers.

You're one click away from subscribing to BobCAD's YouTube channel. Click the link below for tips, how-tos and much more!
Summary
Article Name
NGM Stays Successful With BobCAD's CAM Software
Description
BobCAD-CAM is proud to display the great things our customers are accomplishing with our software. This week's story comes from North Georgia Molding and their experience with BobCAD software and In-House training.
Author