BobCAD-CAM software has officially released their Pro upgrade for their new Version 24 CAD/CAM software product providing significant enhancements to 3 Axis Roughing and Finishing operations as well as side roughing and contour ramping capabilities for profiling open shapes. Profile milling is standard practice in most shops and when using the V24 Pro CAD/CAM software there is now an option for a Contour Ramp type toolpath pattern which allows the user to generate a continuous ramping motion around the perimeter of the part. The user can enter an angle of decent, or a depth per pass to determine the number of rotations around the part. This new feature eliminates the need to pre-drill small pockets in most cases and is great in milling out slots. This new feature is also great for cutting small irregular shaped pockets where a single pass around the perimeter will clear all the material due to the size of the tool. In addition to this 2 Axis operation, the software is now capable of generating clean side roughing toolpaths for open shape profiles.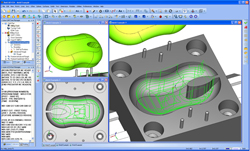 The V24 Pro CAD/CAM software now offers powerful new 3 Axis toolpaths. The new Advanced Roughing operation includes Intermediate Steps where after the initial roughing stage has occurred, the tool comes back up the contour making intermediate cuts that reduce the stair step effect that roughing can cause. This makes finishing the part more efficient in complex part machining. Included in this is a Rest Roughing option where the CAD/CAM Software will calculate where the larger tool could not cut and produce toolpath for a smaller cutter to machine. Other new advanced toolpaths are Flatlands where the software will machine all of the flat areas of the part, new Pencil Machining will machine internal corners and fillets with smaller radius tools to remove the remaining material that were inaccessible with larger tools used for previous roughing, semi-finishing, and finishing toolpaths. The Version 24 Pro CAD/CAM software also includes an advanced Equi-Distant Offset Contour toolpath which maintains the exact step over for the cutting tool regardless of the complexity of the surfaces being machined. This finishing toolpath is capable of producing a near polished part in many cases. New machining wizards have been added for all milling operations that remove the guesswork and step the user through the entire machining process. This is a big plus!
All of these new features come with a compliment of user definable variables such as tool lead-ins and Outs, toolpath linking options and much more. The new Tool Library also makes adding and customizing tools more efficient. The new Version 24 Pro CAD/CAM software is powerful enough to compliment the serious machine shop that requires advanced cutting capabilities while being priced affordably enough for the home machinist to be able to acquire. For more information contact BobCAD-CAM directly at 877-262-2231 or 727-442-3554.