5 Axis Milling Head Support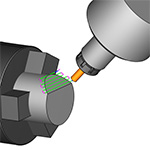 B axis (5 axis) milling head programming features can be used with single spindle and sub-spindle machine setups to give you the flexibility to best target your parts when performing facing, pocketing, and hole drilling operations.
Mill Turn CNC Machine Compatibility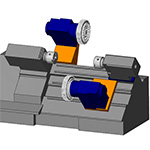 BobCAM for SOLIDWORKS™ supports nearly all mill turn, multitasking, live-C, and lathe equipped with live tooling machine setups. This includes machine setups with multiple spindles, multiple turrets, milling heads, programmable steady rests, programmable tailstocks, part catchers, and machines with B (5 axis), C, and CY axis capabilities.