What is Predator Virtual CNC
Predator Virtual CNC for BobCAD-CAM is an affordable upgrade to provide toolpath verification and simulation. BobCAD-CAM V21 and older customers must upgrade to the BobCAD-CAM V24 edition to use the Predator Virtual CNC software. Three levels are available exclusively from BobCAD-CAM.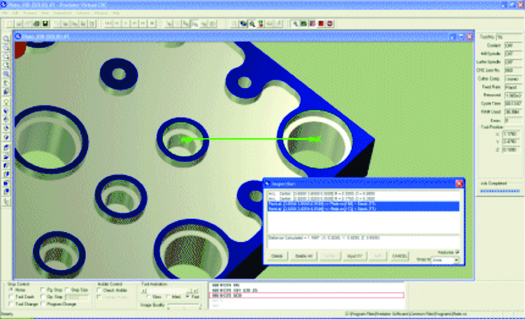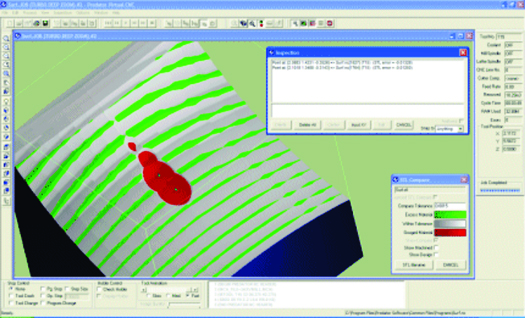 Why Predator Virtual CNC?
Level 1
Animation Style Verification
Zoom, Pan and Fit
VCR Operation (Play, Stop, Single Step, Rewind)
2 & 3 Axis Milling
Single Square Stock Shape (Milling)
Standard Milling Tools (Flat, Ball, Bullnose & Drill)
Rapid Tool Collision Checking (Flute Only)
2 Axis Turning
Single Cylinder Stock Shape (Turning)
All Lathe Tool Types (Except Custom)
Rapid Tool Collision Checking (Insert Only)
Level 2
Includes all features of Level 1 plus:
Standard Fixture Shapes (Single and Multiple)
Fixture Collision Checking
Background Color Configuration
Multiple Standard Stock Shapes
Tool Shank Checking (Milling)
Tool Holder Checking (Milling and Turning)
Cycle Time
Copy Images to Clipboard
Cut Sections
¾ Lathe Section Views (Part ID)
1 Second Zooms, Pans, Fits, Rotations, Views
Zoom, Pan, Fit Rotate, View while Cutting
Deep Zoom (Solid)
STL based Fixtures)
Part Inspection
Material Removed
Dovetail Tools (Milling)
Radius Tools (Milling)
Chamfer Tools (Milling)
Tapered Ball Tools (Milling)
Tapered Bullnose Tools (Milling)
Backstep (Adds Material Back to Stock)
Translucent Stock and Fixtures
Translucent Tools
Predator Virtual CNC System Requirements
Support for the following minimum computer hardware is required for v9:
Pentium 4, AMD Athlon or newer CPU
40 GB or larger hard drive
512 MB or more RAM
Mouse
USB Port
Serial Ports – for DNC communication
NOTE: A nVidia, AMD or 3DLabs based graphics card is highly recommended for Predator Virtual CNC. Like most CAD/CAM systems Predator Virtual CNC will often require high end PC components to support large and complex 3D simulations for optimum performance.
Predator Virtual CNC Software Testimonials
[review-comments]