Tech Tuesday is a weekly blog that addresses some of the most common questions and concerns that I hear throughout the previous week from users of BobCAD's CNC software. Both customers and future customers are more than welcome to leave a comment on what they would like to see covered for the following Tech Tuesday.
Advanced Rotary operations are found in the rotary options in the available milling operations. These advanced rotary operations are unlocked with our Milling 4X Pro package of BobCAD-CAM. There is a 4 axis advanced rough and 4 axis advanced finish rotary operation. Advanced Rotary operations give you a more optimized toolpath for your 4 axis milling needs.
4 Axis Advanced Rough
The purpose of the 4 Axis Advanced Rough operation is to utilize the rotary axis when roughing a part. In Addition to the standard rotary operation, the advanced roughing operation offers different cut patterns. Instead of only spiraling around or along the cylindrical stock, the advanced roughing offers an offset and spiral cut pattern. The tool will spiral around the even cylindrical areas, and then will pocket into uneven areas of the stock. This provides a shorter cycle time and more material removal in the roughing routine.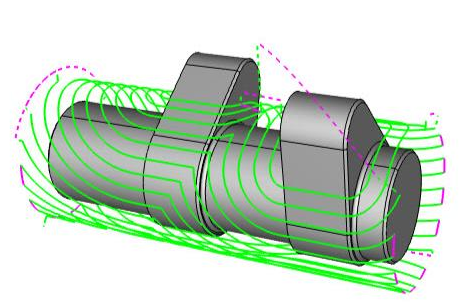 4 Axis Advanced Finish
The purpose of the 4 Axis Advanced Finish operation is to utilize the rotary axis when finishing a part. This operation allows you to focus on the specific geometry of the part to achieve a clean surface finish.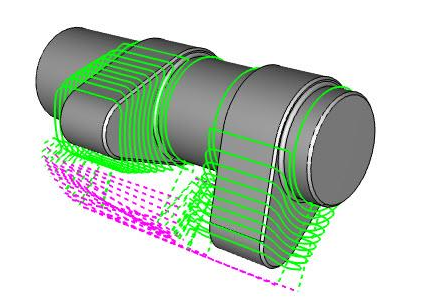 The Advanced Rotary operations also offer adaptive depth step options. You can set a standard depth of cut amount for each pass, and then there is a minimum depth of cut. This allows extra passes in areas that have more material remaining than in others. There is also an option to force floor cuts. This provides an extra pass at the full depth of any floor of a part to finish those areas.
These milling operations allow you to set certain limits in where you want to start and end the toolpath at. You can focus on a specific area of the part, whether you want to contain the toolpath in an area length-wise, contain the path along a certain area around the part, or both.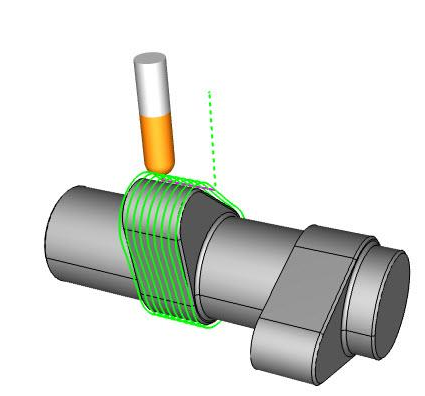 These rotary operations also provide a trim to stock option. BobCAD will trim away any toolpath based on the model created for your initial stock. This eliminates any air cutting and helps cut down on cycle times. You now have better control of the toolpath for your 4 axis rotary operations.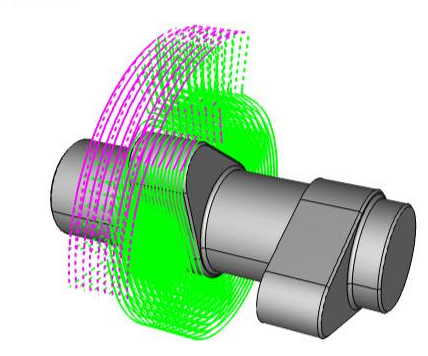 Try the new Advanced Rotary operations in BobCAD-CAM today!
BobCAD-CAM has provided CAD-CAM CNC Software products to the global manufacturing industry for over 30 years. BobCAD-CAM software can be found to increase CNC productivity for many applications in aerospace, automotive, production manufacturing, mold making, general machining, woodworking as well as the medical manufacturing industry, consumer products, musical instruments, custom fabrication, defense industry and many others due to the products ability to automatically generate NC programming code for such a wide variety of CNC controllers. BobCAD-CAM software is also found in educational institutions throughout the world as well as independent hobby home use. Products include machining technology for 2, 3, 4 & 5 Axis CNC Milling, Routing, Waterjet, Plasma and Laser machines as well as 2 Axis CNC Lathe. BobCAD-CAM is modular allowing shops to start off at a reduced technology level and add technology as it is needed including an add-on, BobART, for artistic machining. Unique technology includes adaptive high-speed machining multiaxis milling and routing which is a first in the world of CAD-CAM software. BobCAD-CAM also provides a variety of quality training products that include regional and online training classes or private sessions tailored to specific applications. Professional certification and multi-tiered support solutions are available. Contact BobCAD-CAM directly for more information at 877-262-2231 or 727-442-3554
New Feature Spotlight – Tell us the topics that are most important to you Click Here