Tech Tuesday is a weekly blog that addresses some of the most common questions and concerns that I hear throughout the previous week from users of BobCAD's CNC software. Both customers and future customers are more than welcome to leave a comment on what they would like to see covered for the following Tech Tuesday.
CAM Libraries
BobCAD-CAM has CAM libraries for every facet of your milling and turning parameters. Our CAM libraries aid the everyday machinist by storing and providing quick access to programming critical data. Create new, edit and call from the Tool, Holder, Adapter, Thread or Material libraries.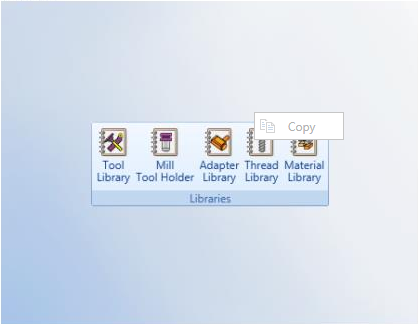 The Tool Library
The Tool Library contains all of the available system tools based on the main categories Drill, Mill, Lathe, Laser, Plasma, and Waterjet. This dialog box is used to add, delete, and modify tools. You can also load tool information from a previously saved file. On the left side of the dialog box is a list of the supported tool types. The right side contains the tool parameters list for each tool.

The Tool Holder Library
The Milling Tool Holder Library is used to create and modify tool holders and arbors. Each category on the left specifies a tool holder type, and each arbor that belongs in that category is shown on the right. The holders/arbors can be associated with a tool for simulation purposes.

The Adapter Library
The Adapter Library is used to define all adapters that are available in the system for mounting lathe or mill tools (live tooling) to the turret of a mill turn machine (or lathe with live tooling).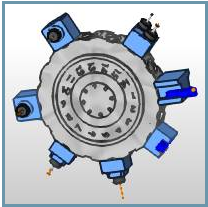 The definition of an adapter in BobCAD-CAM is a device that is used to mount either lathe or mill tools to the lathe turret of a mill-turn machine. The adapter is attached to a turret station and one or more tools are attached to the adapter. An adapter may also be called the tool holder or tool mounting block (also known as VDI or BMT tooling). Adapters can hold one or more tools in one or more orientations on the physical machine. Each adapter either holds static lathe tools or it is used to drive live (mill) tools.

Thread Library
The Thread Library contains all of the available system tap thread sizes. This dialog box is used to add or modify the tap thread parameters. You can create new tap groups to define a custom set of threads or the thread sizes that you most frequently use. This help topic explains the layout and use of the Thread Library dialog box.

Stock Material Library
The Stock Material Library contains all of the information for the available stock materials. You can create and modify the Material Groups which contain multiple Material Types. Material Types can also be created, modified, and added to the Material List. The Material List groups the materials by grade and lists them in alphabetical order.

The feeds and speeds for each Material Type are fully adjustable, and these parameters are set in the Stock Material Feeds and Speeds dialog box which is displayed when you click Add Material or Modify Material in the Stock Material Library dialog box.

All jobs contain a Stock Material item in the tree that defines the stock material from which the part is cut. The selected material type is used for automatic feeds and speeds calculations in the CAM Wizards.

Try CAM Libraries options in BobCAD-CAM V33 today!

BobCAD-CAM has provided CAD-CAM CNC Software products to the global manufacturing industry for over 30 years. BobCAD-CAM software can be found to increase CNC productivity for many applications in aerospace, automotive, production manufacturing, mold making, general machining, woodworking as well as the medical manufacturing industry, consumer products, musical instruments, custom fabrication, defense industry and many others due to the products ability to automatically generate NC programming code for such a wide variety of CNC controllers. BobCAD-CAM software is also found in educational institutions throughout the world as well as independent hobby home use. Products include machining technology for 2, 3, 4 & 5 Axis CNC Milling, Routing, Waterjet, Plasma and Laser machines as well as 2 Axis CNC Lathe. BobCAD-CAM is modular allowing shops to start off at a reduced technology level and add technology as it is needed including an add-on, BobART, for artistic machining. Unique technology includes adaptive high-speed machining multiaxis milling and routing which is a first in the world of CAD-CAM software. BobCAD-CAM also provides a variety of quality training products that include regional and online training classes or private sessions tailored to specific applications. Professional certification and multi-tiered support solutions are available. Contact BobCAD-CAM directly for more information at 877-262-2231 or 727-442-3554