Tech Tuesday is a weekly blog that addresses some of the most common questions and concerns that I hear throughout the previous week from users of BobCAD's CNC software. Both customers and future customers are more than welcome to leave a comment on what they would like to see covered for the following Tech Tuesday. If you missed last week's Tech Tuesday, click here.

Today's article is brief but walks you through how to limit the different modules that are available in BobCAD's CAD-CAM software. This is particularly for users that own & use a network license. Network licenses allow the end-user to install the software on an unlimited number of computers on the network. You can restrict some of those products, allowing you to isolate the product modules that you choose.





For example, let's say there are certain stations that you only want to run 4 axis Professional. You would then limit the license accordingly. This makes it so the programmer is only using what they need, eliminating extraneous functions. To successfully limit your products, follow the steps below:

1. Close any open BobCAD-CAM/BobCAM software
2. Using Windows Explorer: Navigate to the "Data" folder for the software product you are wanting to alter, and enter the License directory
3. Open the BcLicense.ini file in a text editor like Notepad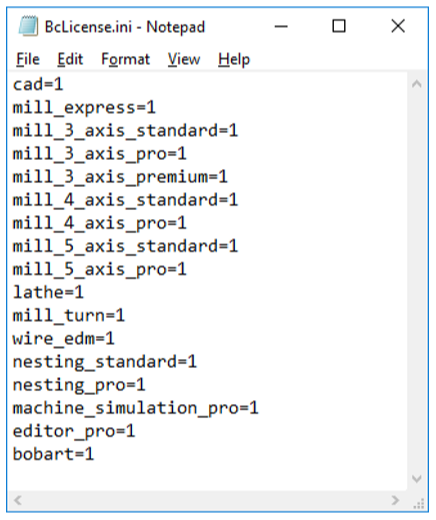 4. You can disable products by changing their value to "0" or you can enable products by setting their value to "1"

NOTE: You cannot enable products you do not own on your license. As a good practice, always make a backup of the BcLicense.ini file prior to making any alterations. Thank you again for reading another Tech Tuesday; see you next week!


Get Your V31 Demo Here & Start Cutting Today

You're one click away from subscribing to BobCAD's YouTube channel. Click the link below for tips, how-tos and much more!


BobCAD-CAM has provided CAD-CAM CNC Software products to the global manufacturing industry for over 30 years. BobCAD-CAM software can be found to increase CNC productivity for many applications in aerospace, automotive, production manufacturing, mold making, general machining, woodworking as well as the medical manufacturing industry, consumer products, musical instruments, custom fabrication, defense industry and many others due to the products ability to automatically generate NC programming code for such a wide variety of CNC controllers. BobCAD-CAM software is also found in educational institutions throughout the world as well as independent hobby home use. Products include machining technology for 2, 3, 4 & 5 Axis CNC Milling, Routing, Waterjet, Plasma and Laser machines as well as 2 Axis CNC Lathe. BobCAD-CAM is modular allowing shops to start off at a reduced technology level and add technology as it is needed including an add-on, BobART, for artistic machining. Unique technology includes adaptive high-speed machining multiaxis milling and routing which is a first in the world of CAD-CAM software. BobCAD-CAM also provides a variety of quality training products that include regional and online training classes or private sessions tailored to specific applications. Professional certification and multi-tiered support solutions are available. Contact BobCAD-CAM directly for more information at 877-262-2231 or 727-442-3554.