Tech Tuesday is a weekly blog that addresses some of the most common questions and concerns that I hear throughout the previous week from users of BobCAD's CNC software. Both customers and future customers are more than welcome to leave a comment on what they would like to see covered for the following Tech Tuesday. If you missed last week's Tech Tuesday, click here.

Happy release day! We are proud to introduce the brand new V32 CAD-CAM software to machinists all across the globe! V32 boasts dozens of upgrades and enhancements, touching all aspects of the software. "We are excited to deliver the next generation of BobCAD-CAM software to our customers," says Greg Myers, BobCAD's Director of Software Development.

You will be very pleased to learn that we can now accept Rhino 6 File imports. Previously, BobCAD had only been able to accept imported files up to Rhino 4. For today's Tech Tuesday I pulled the top 3 new additions to the software that I truly believe users will love about V32:

Document Templates
Assigning Fixtures in Mill
Define & View Chuck Jaws in Mill Turn

1. Document Templates
V32 users can now save an entire file as a template. When you select the template, that file is recreated as a new document. Save yourself steps and time with the new document templates command. This modern functionality can be utilized in a bunch of different ways, such as the following:

A lot of companies offer a particular series of parts that feature slight variations between them. Using the document templates, you can create the base geometry of the model and then save that as a template. Once the first variation has been completed all you have to do is open the base geometry template so the next iteration is already half done.
In some cases, the same stock is used for many different job types. All you have to do now is import the fixture, create a job, set the stock, Machine Setup location, clearance values and Work Offsets. Once that is done, simply save the file as a template. You can now use that template anytime that stock is being used, meaning your work is already done!
Sometimes customers use a variety of document styles for different situations. There were 2 options in the past for changing documents: Part Settings (the current document) and Default Settings (future documents). This typically meant that users who were frequently using different settings had to change those settings back and forth a lot. That is no longer the case. You can now create document templates to handle all the cases you may want to use without ever having to go back & touch the settings dialog again. Just select one of your templates in the Backstage and you are ready to go!
Sometimes the same basic operations are used on almost every part: a couple of profiles, a couple of pockets and maybe a drilling operation or 2. With the new document templates in BobCAD, you can easily create a job with those same features and operations, saving the file as a template. Simply open the template, merge the appropriate file and your job is almost done! The only thing left for you to do is to associate geometry and the proper depths to each feature, compute and the job is complete! Pretty awesome, right?

However you see fit to use the new document templates, the result is the same: fewer steps that save you valuable machining time.

2. Assigning Fixtures
You asked for it and we added it to the software! Now users have the ability to view the fixtures being used for various machine setups and can check them for potential collisions. Easily assign a fixture for each machine setup. It's as simple as "1, 2, 3!" Just right-click the fixture item under the associated machine setup and select/reselect, then pick the fixture geometry as it appears in the proper configuration and select OK to save. This can be repeated for as many machine setups as necessary. Now, when you run your next simulation you will be able to see the selected fixture geometry in the configuration it was selected in for each of your setups.

Subscribe to BobCAD-CAM's Tech Tuesday Blog
Join your fellow machinists. Get the latest Tech Tuesday CAD-CAM articles sent to your inbox. Enter your email below:
3. Define & View Chuck Jaws
Now, for the first time ever, BobCAD is offering machinists a simple solution to quickly define chuck jaws in the user interface, allowing them to be viewed in simulation. You now have the ability to easily check jaws for collisions, verify jaws opening and closing, spinning, & even syncing properly for part transfers.

So there you have it, these are my top 3 choices for the new V32 enhancements that I'm sure will be a fan favorite amongst new users. Want to see the rest of the enhancements that came to V32? Click here! To try out the new software, click the link below. Make sure to leave a comment and tell us what YOUR favorite new feature is.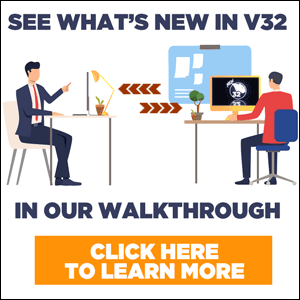 You're one click away from subscribing to BobCAD's YouTube channel. Click the link below for tips, how-tos and much more!


BobCAD-CAM has provided CAD-CAM CNC Software products to the global manufacturing industry for over 30 years. BobCAD-CAM software can be found to increase CNC productivity for many applications in aerospace, automotive, production manufacturing, mold making, general machining, woodworking as well as the medical manufacturing industry, consumer products, musical instruments, custom fabrication, defense industry and many others due to the products ability to automatically generate NC programming code for such a wide variety of CNC controllers. BobCAD-CAM software is also found in educational institutions throughout the world as well as independent hobby home use. Products include machining technology for 2, 3, 4 & 5 Axis CNC Milling, Routing, Waterjet, Plasma and Laser machines as well as 2 Axis CNC Lathe. BobCAD-CAM is modular allowing shops to start off at a reduced technology level and add technology as it is needed including an add-on, BobART, for artistic machining. Unique technology includes adaptive high-speed machining multiaxis milling and routing which is a first in the world of CAD-CAM software. BobCAD-CAM also provides a variety of quality training products that include regional and online training classes or private sessions tailored to specific applications. Professional certification and multi-tiered support solutions are available. Contact BobCAD-CAM directly for more information at 877-262-2231 or 727-442-3554.