Learn How to Get More Parts Out of Every Sheet
Start learning how to achieve a higher per sheet profitability with the new Nesting module inside BobCAD-CAM. Our training videos show you how to optimize nest programming in an intuitive, progressive way that allows you and your shop to maximize sheet yields on every job.
The videos and digital workbook break down nest programming by individual features so you can learn at your own pace and go back and re-watch topics at any time.
With these DVDs, you'll learn about…
Tabs & Tabs with Leads
Custom Sheet Shapes & Remnant Sheets
Advanced Sheet Parameters
Part-in-Part Nesting & Preferential Hole Filling
Working with Filler Parts
Standard, Fast, & Optimal Nesting Optimizers
And Much More!
If maximizing your sheet profitability is your goal, the Nesting Training Professor Video Series is one the best ways to do it. Whether you're learning to program nesting jobs for the first time or looking to sharpen your skills, these videos will equip you with the knowledge you need to get the most out of every sheet.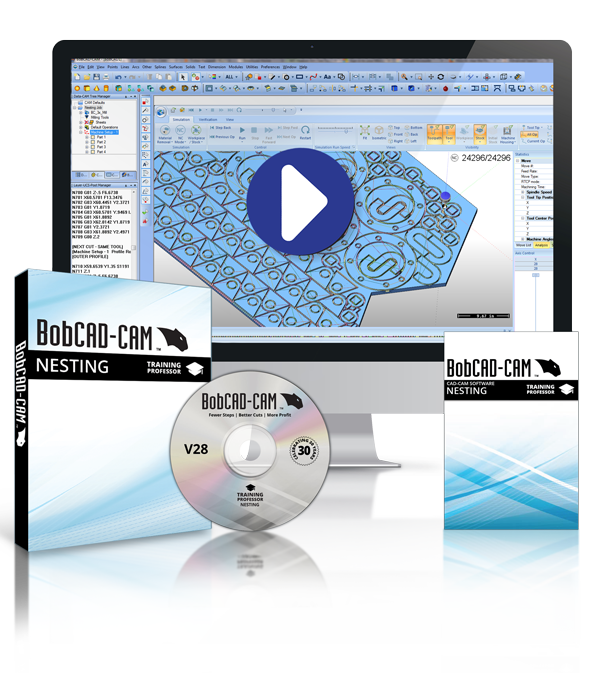 Training Set Includes:
39 Individual Training Videos (DVD)
Over 2.5 Hours of Video Training
462 Page Digital Workbook (PDF)
Interactive CAD Training Files for On-Screen Lessons
Start learning the new Nesting modules for BobCAD-CAM today.