Learn How to Program Precision Cuts with Wire EDM
Start learning how to design and machine your wire EDM parts faster and easier with the new BobCAD-CAM system. Our training videos show you how to master 2 & 4 axis wire EDM programming in an intuitive, progressive way that allows you and your shop to manufacture precision cut parts for all of your tight tolerance jobs.
The videos and digital workbook break down wire EDM programming by individual features so you can learn at your own pace and go back and re-watch topics at any time.
With these DVDs, you'll learn about…
Importing Part Files, Drawing, and Modifying Models
Defining & Modifying Cutting Conditions
Toolpath Patterning
Applying 2 & 4 Axis Toolpath Strategies
Avoiding Costly Machine & Tool Collisions
And Much More!
If expanding your programming capabilities is your goal, the Wire EDM Training Professor Video Series is one of the best ways to do it. Whether you're learning to program wire EDM jobs for the first time or looking to sharpen your skills, these videos will give you the confidence to cut hard, expensive alloys with precision.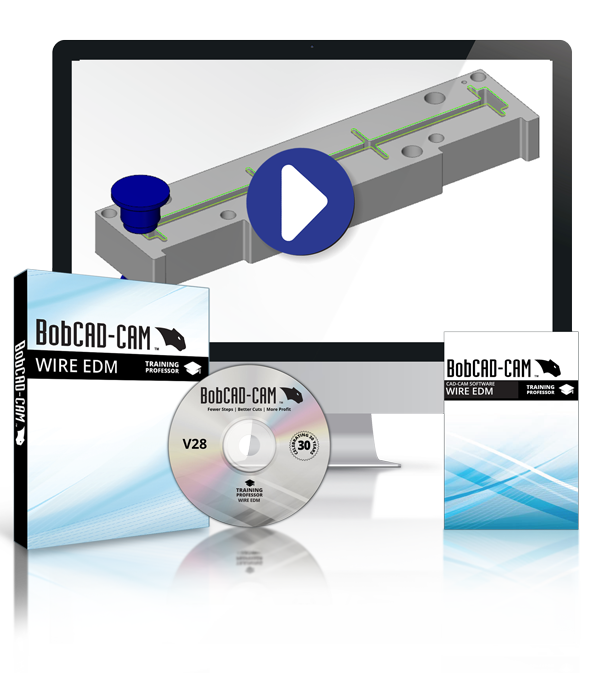 Training Set Includes:
122 Individual Training Videos (DVD)
Over 7.5 Hours of Video Training
593 Page Digital Workbook (PDF)
Interactive CAD Training Files for On-Screen Lessons
Start learning the new Wire EDM system for BobCAD-CAM today.