You're one click away from subscribing to BobCAD's YouTube channel. Access more webinars like this and much more!

What is Point Pick used for?
Point Pick is used to select point location(s) of your Toolpath. Using Point Pick allows users to select a point location versus a line or arc segment.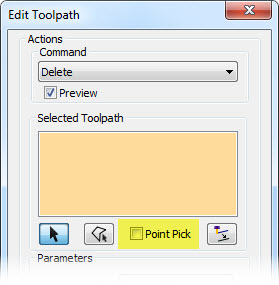 Why would I want to convert to CAD?
There are many reasons why you may want to convert your Toolpath to CAD geometry. As an example, you can convert some portion of your Toolpath to CAD, which you can then modify. Maybe your first move, or maybe an exit move. The Toolpath editor works for 2 – 5 Axis Toolpaths. Being able to convert Toolpath to CAD or make edits to the geometry and then replace the Toolpath with your newly edited Toolpath can be extremely useful in many scenarios.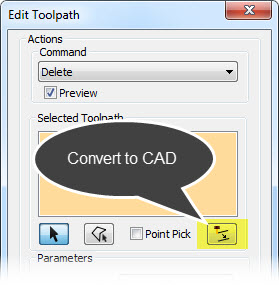 Can you change your start point location, like when you are using unknown stock?
Yes. Using the move command you can change your start location.



After you edit your Toolpath and it's locked, what can you do from there?
You can layer on as many rounds of edits to Toolpath operations as needed, even if it's locked. The feature is automatically locked to protect the changes you've made to the Toolpath.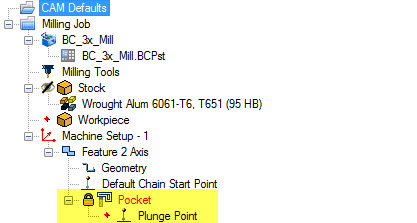 How do you remove the edits you've made to an operation?
Unlock the feature and recompute it. Once a feature is unlocked, if re-computed, the Toolpath will revert back to the operation's result prior to editing.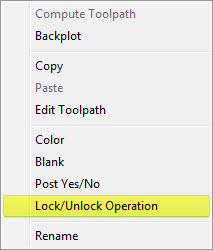 Can you move your spiral entry to a point location?
Yes, using the 'move' command you can change the location of a single entity, group of entities, even all the entities. Choose from drag, delta or point-to-point move location.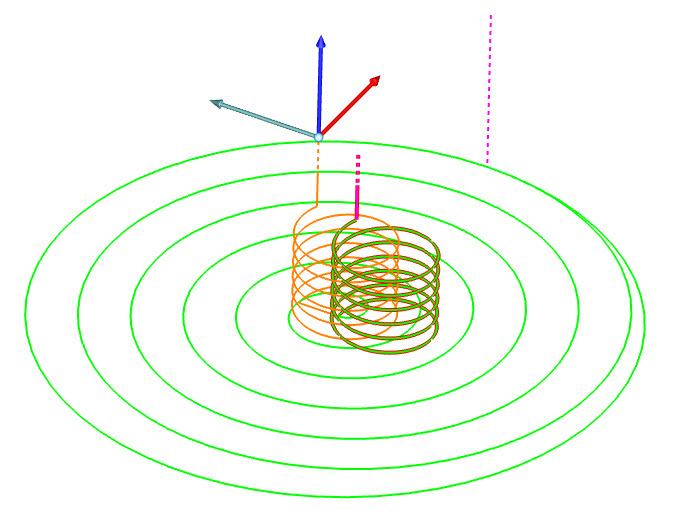 Can you change link move Feedrates?
Yes, using the command 'modify attributes' you can customize the Feedrates for any aspect of your Toolpath.


Can you convert to CAD, modify the geometry and then replace the old Toolpath with your need-modified geometry?
Yes. Using convert to CAD creates wire frame geometry based on the Toolpath you've selected. Once it's wire frame, you can modify that geometry directly just like you would any line or arc. From there, you can replace you current Toolpath with the new wire frame you've created. 'Replaced' was not covered in today's webinar, but we will cover it in the next webinar.
If you are drilling a series of countersunk holes, can you change the depths on some and leave the others the same?
Yes, the edits to your Toolpath is based on your selection. Choose 1 location, a few or all of them. That power to make changes to what you when, when you want, is in your hands!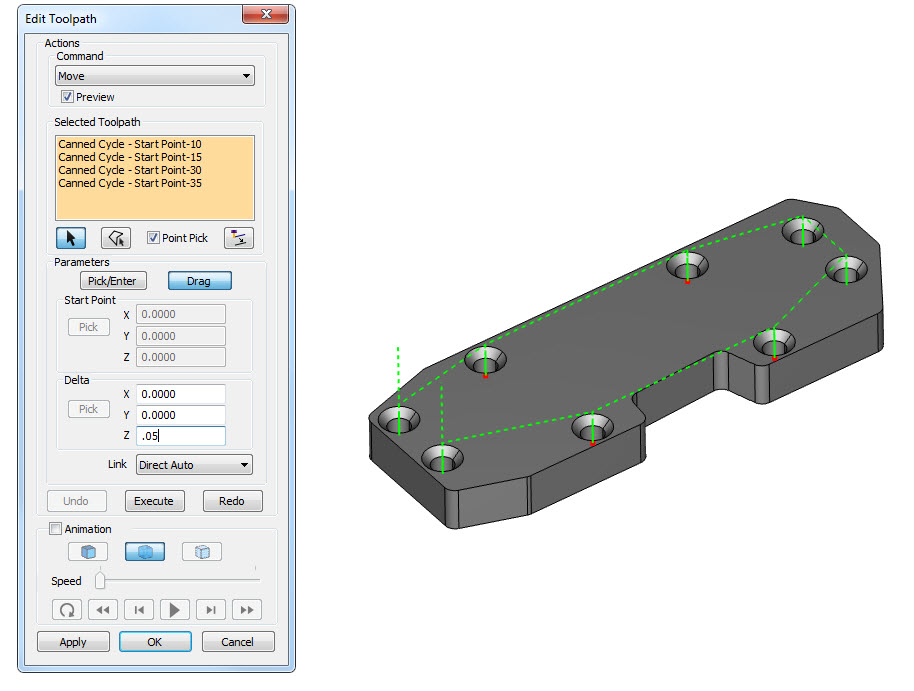 Can you move your rapid moves down from the rapid plane?
Yes. Using the 'move' command you can change the Z plane of rapid moves.



Can you add some Toolpath moves, like jumping over a clamp from one hole to the next?
Yes, you can move rapid locations, break Toolpath to aid in the moving of it to jump clamps or other avoidance needs.

If you edit Toolpath, does it edit your geometry?
No, the Toolpath Editor only edits that chosen Toolpath.

Can you reverse the direction of a path using the Toolpath Editor?
You can by using the 'replace' command that we will cover in next week's webinar.

If you wanted to offset a Toolpath a few thousandths, tweak a final dimension or account for an undersize tool, would you use the Toolpath Editor for that?
No, offsets for tool wear can be handled with stock for the finish at a positive or negative number, or with cutter comp out at the controller.

Can I get a copy of the hot key list from last week?
Yes. Click here for the hot keys list.

Subscribe to BobCAD-CAM's CNC Software Blog
Join your fellow manufacturers! Get BobCAD-CAM's latest CAD-CAM articles straight to your inbox. Enter your email below: