Overview
The woodworking industry is vast and requires powerful CAD-CAM solutions for designing wood products and then CNC machining them. BobCAD-CAM is a popular solution for creating custom specialty products, sign-making, furniture and much more.
---
Featured Woodworking Success Story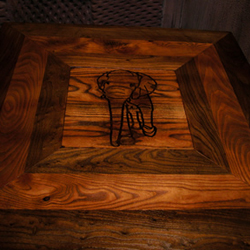 Anything Worth Repairing
After 30 years in the contracting business the work was starting to become too much. I really did not want to stop working, so me and some of the women I worked with started a repair shop call Anything Worth Repairing. As our business expanded, I could see we had to learn more ways to professionally handle the more difficult challenges that were coming to us. After all we had to live up to our name. After many months of research I got a flyer in the mail from Torchmate. I went to their website and was quite taken by what their CNC cutting machines could do. I had several other flyers from various CNC software companies, but what was very interesting to me was that Torchmate was affiliated with BobCAD-CAM. They had not only a geometric program, but also an art form program, which works directly in line with our work. We are now into a second year using BobCAD-CAM and I continue to learn, which is allowing us to expand what we can do for our customers. Thank you BobCAD-CAM!
Lynn Mack
Anything Worth Repairing