The NEW BobCAM for SOLIDWORKS™ V4 is Here!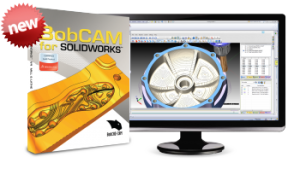 The brand new Gold Partner BobCAM for SOLIDWORKS software upgrade is officially released adding Dynamic Machining Strategies™, major machining operation enhancements, customizable Setup Sheets and so much more! With a new simplified CAM-Job Tree and added benefits such as new Tool Patterns for adding multiple machining strategies within a feature, the ability to copy and paste machining features within the CAM Tree Manager, Multi-Depth 3 Axis Engraving and new posting features. The new BobCAM V4 upgrade answers the call for enhancing the NC programming experience and streamlining productivity without ever having to leave your SOLIDWORKS environment!
Dynamic Machining Strategies™
With the new Dynamic Machining Strategies you can load in different associated machining strategies into one operation. This speeds up the process and allows you to program your parts without having to load different machining features into the tree and then re-select your geometry and so on. An example of this would be when working on 3D parts, programming typically requires roughing, semi-finishing toolpath and then a finish toolpath. Maybe a Z level Rough, Z level Finish and then a Planer toolpath or EquiDistant Offset Contour path. In earlier versions of BobCAM, each strategy would need to be loaded into the CAM Tree separately, requiring more geometry selections and editing. With our new Dynamic Machining Strategies you can process your geometry with multiples cutting strategies all at one time. You can make changes on the fly to adding in or taking away machining strategies faster and much more efficiently, making CAM programming just that more flexible.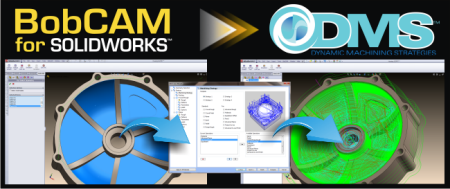 New Tools for 2.5 Axis Machining Features
In the BobCAM V4 we added Tapered, T Cutter, Dove Mill and Lollipop tool types. These tools are now available for all 2D/2.5 Axis machining features! Now it doesn't matter if you are cutting a pocket, doing a profile or engraving. The new V4 Upgrade is developed to save you time by increasing workflow efficiency and adding critical functionality to program your parts more profitably than before and is perfect CNC Software for Milling, Routing, WaterJet, Laser and Plasma for 2.5-5 Axis CNC Machining!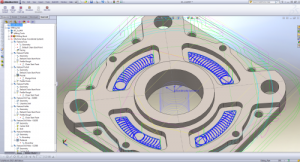 New 3 Axis Machining Features
In the BobCAM V4 we added Multiple Depths for 3D Engrave Roughing, Advanced Planar, Advanced Z Level Finish w/REST, Project Curves, Enhanced Equidistant, Enhanced Advanced Roughing and much more.  3 Axis Mill PRO module enhancements include new Trim to Operation Stock, Angle Range and new Boundary Options so that you can choose Center of Tool, Tool Inside, or Tool Outside of the picked boundary.  Users can also provide an additional offset amount.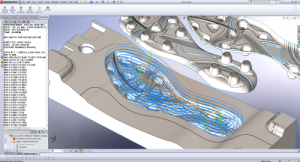 These are a few of the NEW V4 Features:
| New Upgrade Features Include | YES |
| --- | --- |
| Job Start/Setup Wizard | |
| Dynamic Machining Strategies – Single or Multiple Combinations of machining strategies per operation | |
| Customizable Job Setup Sheets | |
| Copy & Paste Machining Features | |
| New Tool Patterns | |
| Multi-depth 3 Axis Engraving | |
| Enhanced thread milling | |
| Enhanced posting by Tool, Feature or Operation | |
| Customizable Starting Points | |
| Use Tapered, T Cutter, Dove & Lollipop Tool Types for All 2 Axis Machining Features | |
| Corner Rounding Tool & Operation | |
| Project Curves | |
| Advanced Planar w/Adaptive Stepover | |
| Advanced Z-Level Finish w/REST | |
| Advanced Z-Level Finish w/Adaptive Depth of Cut, Angle Ranges & Spiral Cutting | |
| Advanced Rough w/Parallel Cut Pattern & Intermediate Cut Options | |
| Advanced Pocket w/REST | |
| Dynamic Posting Order | |
| Trim Toolpath to Stock | |
| Machining w/Angle Ranges on Part | |
| Equidistant Offset Contour REST | |
| Advanced Boundary Controls for 3 Axis Pro Toolpaths | |
| Thread Mill Multiple locations in one feature | |
| New Simulation Features | |
| Multiaxis Module Enhancements | |