"I was very impressed with the professionalism, knowledge of posting, speed at making changes and getting back to me, and patience…. I'm very pleased with BobCAD, the product and BobCAD the group. You are a solid company and I would definitely recommend you."
Mike B. | CNC Laser
"Excellent!"
John H. | BobCAD-CAM V34 Advantage Plan Member | 4 Axis CNC Mill
"Just a great Big Thank You!"
Larry B. | 3 Axis Mill
"The software and support is working good and a big plus compared to other software's"
Adrian B. –| BobCAD-CAM V34 Advantage Plan Member | 5 Axis Pro Mill Turn
"Thank you for the prompt and professional service"
David S. | BobCAD-CAM V33 Mill Professional | 3 Axis Mill
"Thank you for the prompt and professional service"
David S. | BobCAD-CAM V33 Mill Professional | 3 Axis Mill
"very good at resolving the issues with my post and persistent at delivering the result that I wanted"
James S. | BobCAD-CAM V33 Mill Professional | 3 Axis Mill | 2 Axis Lathe
"Extremely helpful, BobCAD-CAM is a fantastic tool"
David H. | 2 Axis Lathe
"Customer service is excellent… Best software available for 2-3 axis machining. Easy to learn, good customer service and value"
Martin R. | BobCAD-CAM V34 Advantage Plan Member | 3 Axis Mill
"all issues with the post were corrected in a timely manner"
Stephen B. | 4 Axis Mill Turn
"Excellent, Powerful Package"
Zachary M. | BobCAD-CAM V34 Advantage Plan Member | 4 Axis MillRick Perbeck | Music Medic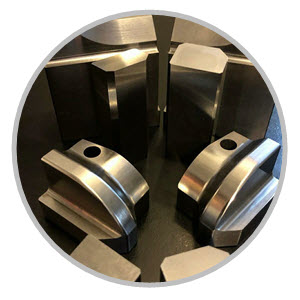 "We started with 1 machine and BobCAD 8 years ago. Since then we've grown into 5 machines and the confidence to take on any project. There hasn't been a part we couldn't program, thank you BobCAD for a great software! "
Eduardo Gallardo | SSI Mexico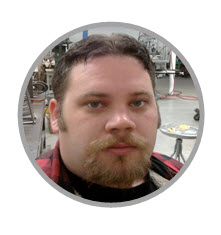 "I like the multiple things I can do with BobCAD, some days it's quick 2d programs, the next day might be 3D work to repair molds, other days I'm programming the wire machine."
"Flexibility, Ease of use, and Value"
Advantage Plan Member Since 2018
RON WATKINS | RECTO MOLDED PRODUCTS
"The BobCAD V32 package we purchased has already proven to be an excellent value. Within hours we were cutting parts on our CNC Machines. No code editing whatsoever. We are learning additional BobCAD features and capabilities very quickly and it is improving our MFG process. I usually will not send a letter like this but I am very pleased with the product. I thought it would take weeks of training and familiarization before we were making parts but it only took hours. Compliments to the BobCAD Team."
Paul | Blackfin Manufacturing, LLC
"Maybe not that complicated but I'm 2 months into operating a CNC lathe with no previous machining experience. A testament to @BobCAD_CAM software. Its absolutely the best software out there."
Jeff Chandler | Tri-State Hydraulics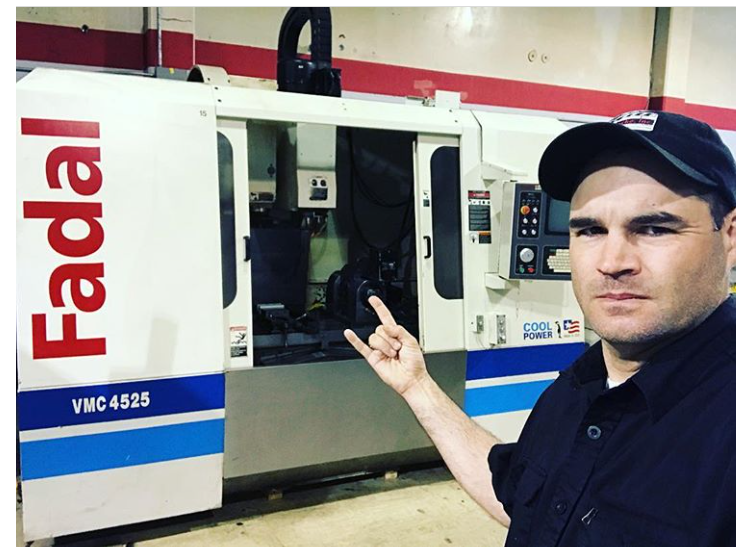 "Here at Cannibal Industries, we build film set equipment. It doesn't matter what trade you are in, it can be lighting, grip, electric, camera or sound… we build it. We do everything from CNC work to welding."
Eric Ballew | Cannibal Industries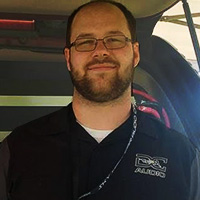 "We use V31: 3 Axis Pro in our shop to program 3 Axis Vertical Mills and 2 Axis Lathes. BobCAD-CAM made me a better machinist. I was able to do things I never could do before. We have yet to turn down a job because we couldn't program a complicated part. BobCAD has been great for our shop."
Jimmy Zukauska | BobCAD-CAM User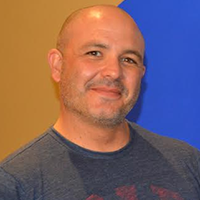 "BobCAD is the most bang for your buck. A lot of times, the aviation world is weird, says Justin. You have to have your first step in the door by having 5 axis capability, you must be AS9100 certified and then it comes down to your software. A lot of the times I tell these engineers I use BobCAD and they are used to more expensive programs, so they say things like 'What is BobCAD?' & I just shoot them to the website. I say that I can do everything that you can do & truthfully, I can do it for a fraction of the cost."
Justin Amador | M&M Manufacturing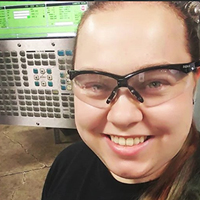 "If they have a surface with a radius in it or multiple radii, it's really important that those little blocks hold a tight tolerance. If we weren't able to get those nice surfaces, we'd be in a big heap of trouble. We wouldn't be able to do them (in-house), we would have to send them out. We are able to take small enough steps that we don't have to run a finishing task on it usually."
Jessica Gibson | Vancho Tool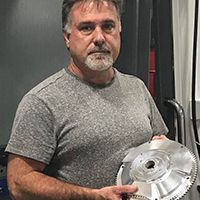 "This was an idea that a customer had, so we took the original part which was cast steel and with the help of a coworker we designed and lighten it. He is more proficient than I with modeling so he did the modeling and I took that with the wonderful version 30 of BobCad and went to work. It was challenging but with the ease of the BobCad software and functions, things went better than I expected!! A Great Product, Great Value, and Easy to learn. Thank You!!!!"
Rod Bryant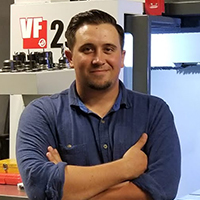 "Been using BobCAD for 5 year, Best program ever invented!"
Rick Perbeck | Music Medic
"I would recommend it to anyone. My toolmaker has used much more expensive packages before and he's blown away by Bobcad's value and features, very pleased. "
Daron Sarrington | Streamline Dispense Ltd.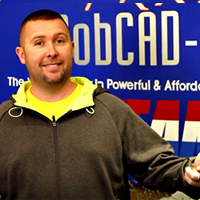 "I have used expensive, brand name CAD-CAM software and BobCAD is the best value for the money that's out there. What you can do with it for the amount of value that you get, hands down, I would pick BobCAD all over again."
Sonny Spicer | Spicer Machine & Tool
"I have used the BobCad and for the past two years the BobCam software. I am very impressed with the intuitive layout of the software. I find it very east to navigate and learn all aspects of the software. I use the 5 axis cam software for complex intake and exhaust ports on a v8 engine head. I was able to completely use the software with no formal training at all. What little bit I needed help with I was able to get online with some of youtube videos. I would definitely recommend this software to any professional user. It is robust and has had no bugs that I have come across, plus everyone I have worked with has been extremely helpful and concerned that I was taken care of and treated professionally. I really appreciate that. Keep the good work up.
Thanks"
William H K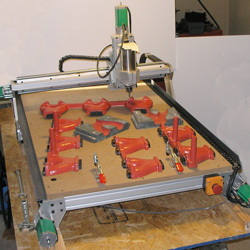 "BobCAD-CAM has everything, for every level of user. They have a terrific support staff that knows you by name and they are genuinely interested in what you are doing. They are more than eager to help you find solutions to your challenges and provide you with the best CAD-CAM package to suit your needs."
Scott Marshall | Owner of Marshall Since 62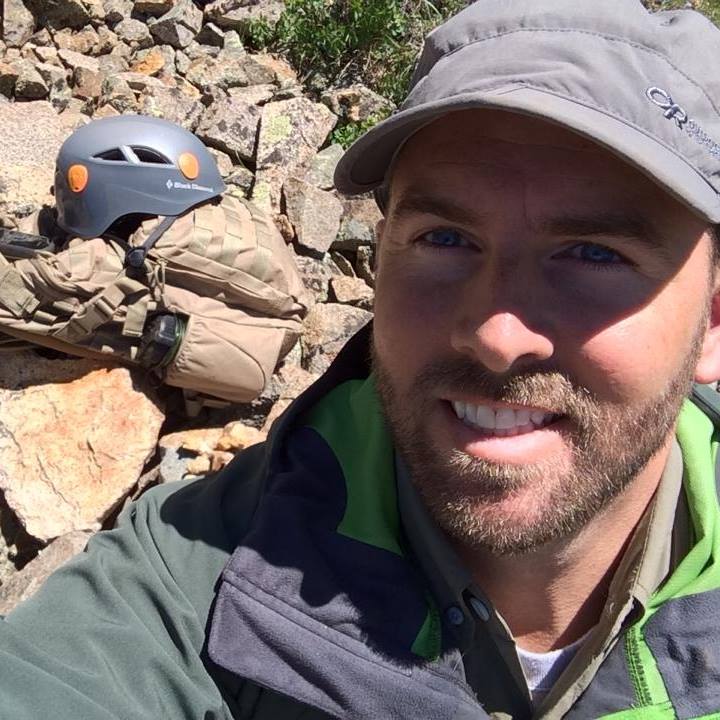 "Best value for the money – I own an engineering firm, and BobCAD is one of my most critical tools to earn money and get projects done. When I hand off parts to the manufacturer, I know they are already optimized for machining because we did them in house first."
Jason Kocher | CEO at Aqua Engineering, LLC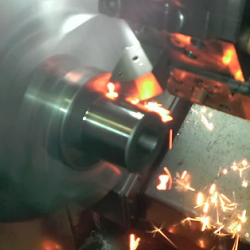 "I love that one software does everything I need – 2, 3 and 4 axis mill work, 2 axis lathe work, wire EDM (including complex 4-axis), and mill/turn. And we really like how easy it is to program similar parts with saving and loading features or even just copy and pasting of features from one part to another."
Randy Brady | Southern Precision Tooling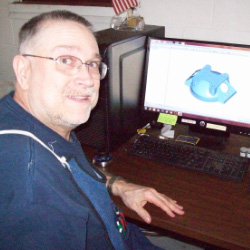 "When it comes to programming complex parts, BobCAD-CAM's toolpaths and simulation are second to none. Once I've created my toolpaths, simulation makes it easy to check my work and make sure everything looks right so I'm not wasting machine time or materials. Best of all, BobCAD-CAM's tech support is always there to help if I get stuck."
Bill Hamrick | Integrity Machining Inc.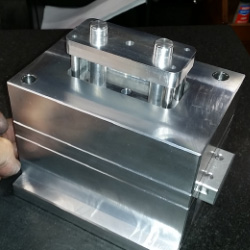 "Using BobCAD-CAM helped me overcome the anxiety I had of CNC'ing molds myself, because it was relatively easy to learn compared to some of the other CAD-CAM products out there."
David Decker | Owner | Decker Design & Engineering, LLC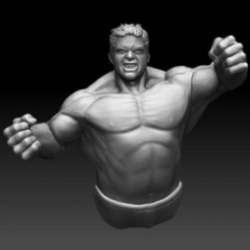 "Some of the parts that we make can take anywhere from 20-50 hours to machine. Being able to simulate the job at high speed with BobCAD-CAM allows us to make the necessary adjustments without having to test run parts and spend countless hours modifying them, saving us machine time and materials."
Michael Gencarelli | Manufacturing Engineer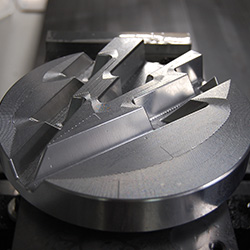 "As a startup, I needed a CAM software that was affordably priced and modular so it could grow with me as I expanded, providing me with the capabilities to move into full 5 axis simultaneous CNC milling in the future. BobCAD-CAM was the correct choice for us now, and for the future."
Steven Donner | Owner | CNC-Bearbeitung Donner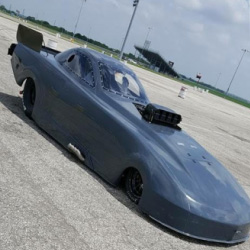 "Bringing BobCAD-CAM software into the business has been great in the repeatability of parts and setup. The ability to quickly change or alter a part on the fly has been a big help because a small change can make a big difference in the outcome of a part."
Chase Copeland | Owner | Copeland Race Cars & Fabrication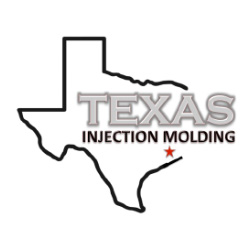 "We have used many CAM software products, but BobCAD-CAM is one of the easiest to use and most affordable for what we need our CAM to do, and the customer service is excellent. Not only that, but they are one of the only CAD-CAM systems I know of that has social media and YouTube help and interaction."
Michael Keown | Tooling Manager | Texas Injection Molding, LLC.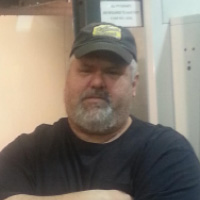 "I was introduced to BobCAD through my job. I had never used CAD/CAM before and was amazed at how user-friendly it was. When I found out how reasonable the software was I bought a newer version for myself. It's so nice to be able to sit at home and write programs. I would recommend BobCAD to anyone that wants excellent CAD/CAM software at a great price."
Scott Engel | NECO Industries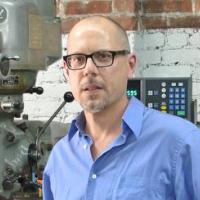 "Because of the intuitive design functionality of SOLIDWORKS coupled with the machining wizards and capabilities of BobCAM, actual working parts were machined in hours instead of days or weeks."
David Stanavich | Wax Rax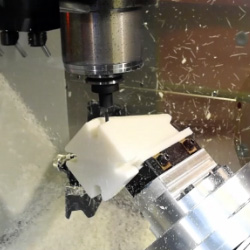 "I've been a BobCAD customer for 10 years now and I've always been impressed with the power of the software."
Wilbur Robey Jr. | Robey Tool & Machine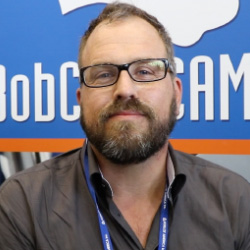 "What I love about BobCAD is that it allowed me to start from ground zero. They had excellent training and a lot of resources. It really took an intimidating subject and made it simple for me. Not only in the sense of how to learn it but also cost-wise. It was a very viable option."
Andy McConnell | Blacksmith | CAM Forge Tool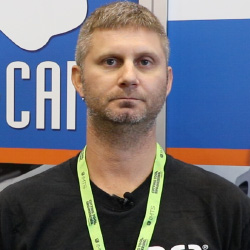 "BobCAD is a very good solution at an economical price."
Joshua Lee | Owner | JDA Custom / JDA Aqua Cutting, Inc.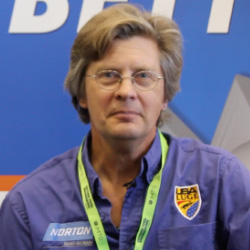 "BobCAD has made my life easy because it was so easy to learn. It was easy to pick up and it translates onto the machine. So if you're getting into machining, learning machining, it's a great way to go."
Jon Owen | Development Coach | USA Luge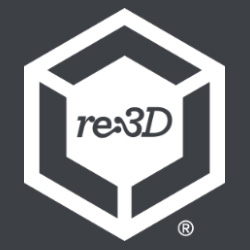 "BobCAD has come a long way and can compete with the big players in the CAD/CAM market at a price-for-price comparison that makes the cost of other software packages seem bloated."
Steve Johnson | Lead Machinist | re:3D Inc.
"The software is great! It's fun working my way through it and seeing the results!"
Satisfied Customer | July 2016 Survey
"I've been working with you for the past 10 years. You guys are great on support and provide intuitive efficient software at a reasonable price."
Bill Khamis | CNC Machinist
"I have used BobCAD since version 17. This is by far the best version yet. I am telling all my friends in the business about it."
Satisfied Customer | June 2016 Survey
"I am a long time BobCAD user and have never been disappointed in a new version. It is a BIG deal that BobCAD lets you purchase just the level of software that you need and not require you to get the full blown version."
Longtime Customer | June 2016 Survey
"I couldn't be happier; the software is performing flawlessly. Whenever I come across something new that I'm unfamiliar with, I can usually find a tutorial on YouTube that clears it up for me. In fact, I would highly recommend anyone who uses BobCAD or is considering the software to check out the BobCAD After Dark videos series on YouTube, they are very informative and well done."
Happy Customer | June 2016 Survey

"I have been using BobCAD since V23. The new V28 is the best version yet!"
Happy Customer | March 2016 Survey
"After using the Training CDs, the user is able to build files with precision. This precision maximizes the materials, the size of the product, and the tool being used to cut it."
Jimmy Hintzke | Architectural Renaissance Techniques
"I've been a user for many years and I'm very happy with the product. When I do have a question, I go to my BobCAD-CAM Training Professor & Video Series."
Larry G. | Customer
"Bottom line… If a customer calls me with an emergency build. I am generally able to write the code, cut the materials, clean, coat and assemble the item in a single day. I challenge anyone else to say the same. BobCAD-CAM makes it possible!"
Jimmy Hintzke | Architectural Renaissance Techniques
"Your tech support always goes the extra mile. If they don't know the answer to a question, which 99% of the time they do, they will walk through the problem step-by-step to figure it out."
Arnold | Customer
"Not many packages do what BobCAD-CAM does at the price they do it."
John A. | Customer
"I tell everyone I know that Bob-CAD-CAM is the way to go. They are a lot better than anyone else!"
George | Customer
"I have been using BobCad for the last few weeks exclusively in the shop and could not happier with the product! I love it!! Best money I have spent in a long time in improving efficiency in the shop!"
@WRUSTLE | PracticalMachinist.com Forum
"BobCAD-CAM software is directly responsible for allowing me to develop my own ideas for fishing lures and turn it into a full time career."
Josh Clark | Angling A.I.
"We bought BobCAD-CAM, and are very happy with the decision. It works. Period. Would do it again, regardless of the budget we were on."
George W. | Customer
"I've been a user for many years and I'm very happy with the product. When I do have a problem, I go to my BobCAD-CAM Training Professor & Video Series and there you are personally taking care of my problems"
Larry G. | Customer
"The support and back up from BobCAD is superior to all other CAM products I have had experience with. After 40 years of CNC experience I have had a few."
Leigh P. | Scott Machinery
"I am very happy with the changes in V26 to the lathe module. I am also glad that the change was made in the mill module to retain the tool offsets IF you clicked "overide offsets"
Ron A. | Customer
"Bob CAD-CAM is the best software I've ever used. The cost of other software's don't compare to the quality and useability that Bob-CAD offers. Being a Solid Works user we have now streamlined our engineering and design departments and merged the wood-shop together into one entity. Upgrading and keeping up with the newer versions every year keeps us on top of new technologies. I've using Bob-cad for 23 years since version 12. I'm really happy with all the progress and development. Keep up the great work. Thank you"
Scotty Bevilacqua | Bevilacqua Guitars
"All I can say is that I work in a job shop where everyday is different and Bobcad gives me the ability to stay productive."
Dave L. | Customer
"Love the new tool path options and 4th axis"
Brock Fee | Customer – Facebook Post
"Even though I run a home built wood router, and taught myself BobCAD-CAM and I can still do 3D with minimal training! Here is a airplane propeller I cut, about 3 feet long and 1.875" thick!!! I made it for a friends nursery, Very cool "wall hanger", they loved it! Looks so good, it may be functional!!!! Thanks guys!"
BobCAD-CAM Software User | Facebook Post
"I've used BobCAD since Version 19. I was using it while running 3 Axis Prototrak. Nothing went on the machine without going through BobCAD first! I love this software and do all my drawings with it. I Have over 50 yrs in fabricating, 25 of it CNC programming,setup and run."
Metty | hobby-machinist.com Post
"BobCAD-CAM is the "real deal", it instantly took my business to a new level."
S. Marshall | Marshall Since 62.com | HotRodInlines.com
"Just had the software for a couple of weeks, so far its been great. Easy to learn, especially with the very well made tutorials."
D.V – DV Tech | Perris, CA
"I began programming cnc's around twenty years ago and have used many different cad/cam packages. I use BobCAD now and I have recommended you to numerous companies here in England and I am surprised that it is not the number one in the world. Please accept my thanks for your friendly and helpful team. I will insist on BobCAD wherever I might work in the future."
G.H – Beaumanor Fluid Power Products | Leicester , England
"We make the best gas engines for giant same model aircraft with BobCAD, and we wouldn't change it for anything! BobCAD allows us to create beautiful parts fast and efficiently, and their customer support is second to none. BobCAD for us has been the difference between having to contract CAM services, and being able to create our parts by ourselves."
M.S – SE Model Products | Miami, FL
"I have to say V25 PRO is the fastest and most capable of all of the versions in my opinion. I've tool pathed some pretty wild shapes and so far there hasn't been one thing BobCAD couldn't toolpath! V25 is the king and the 4th-axis add-on is excellent!"
Alumatrix
"Love my BobCAD-CAM !!"
T.V – Jax Specialty Signs | Jacksonville, FL
"BobCAD was instrumental in making my department profitable from the start. I have found it to be unbeatable when it comes to the features you get for the price you pay. An unrivaled value!"
D. J – Fadal CNC | Meridian, ID
"If you're a machinist and looking for an easy way to increase efficiency in your shop, use what I use. BobCAD-CAM is very good and fairly inexpensive."
BobCAD User | Twitter Post
"I really am excited for BobCAD! The path you are on is very positive; 2, 3, 4 & 5 axis modules plus becoming a SolidWorks Partner…great to see!"
M.T – Fundamental Golf | Visalia, CA
"V25 is a good version…you will not ever look back…and plus the BOBCAD software is some good stuff and easy to use… you got a good deal for all that you got…"
Forum Post | CNC Zone