Create 2 and 4 axis wirepath CNC programming quickly and easily with CAD-CAM for Wire EDM. This powerful software allows you to set up open & closed, inside & outside shape programming and gives you the ability to customize skim passes, independent lead-ins & lead-outs, glue stops, and more for a complete wire EDM programming solution that works with Mitsubishi, Japax, Brother, Fanuc, Sodick and other CNC Wire EDM machines.
Features of the Wire EDM CAD-CAM Software
2 & 4 Axis Wirepaths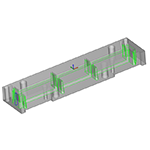 Wire EDM software supports programming open and closed shapes for 2 axis, 2 axis with taper, and 4 axis wirepath cutting. It works with wireframe geometry or you can program directly off of surface edges.
4 Axis Automatic Synchronization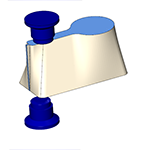 With Wire EDM, you can select from three options that assist in synchronizing and speeding up your programming for your 4 axis wirepaths. Each option offers a unique method of aligning the top and bottom guide of your CNC wire EDM machine.
Toolpath Patterning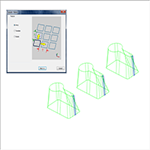 Pattern wire EDM features utilizing the array, translate, or rotate patterning techniques offered in the BobCAD-CAM CAM system.
Reverse Cut Direction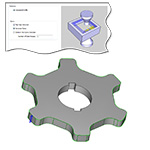 For all Wire EDM machining strategies, the wirepath cutting direction for the rough cut, skim cuts, and tab cut operations are all determined automatically to provide the most efficient cutting methods for the application. You can reverse the cutting direction for any tab cut or skim cut operations to gain control of the cutting direction for all operations.