CAD CAM Cut Order Control |  New Operation Manager
This New CAD CAM feature controls the cutting order of your machining features and operations. Giving you individual control over features, operations, and tools called and run in. "process order control."
The New Operation manager adds Drag and Drop to CAD CAM cut order control. This feature makes it easier to edit cutting orders while adding additional flexibility, especially when using toolpath patterns.
This CAM Tree feature is amazing for selecting and re-ordering operations created by machining features and toolpath operations.

Watch the video below to see how to select multiple operations at a time to drag and drop, changing your cut order. Use this new optimization tool to gain more control over your file while reducing your cycle time.
How to use work offsets and cutting order to optimize cycle times?
How to Make Changes to Your Post Processor?
Maybe your machine and software came together, or perhaps you purchased them independently. Either way, for everything to work correctly, you'll need a proper post-processor.  If you know how to edit and update your post processor, you can quickly make changes in your g-code format to either make jobs run safer, faster, or maybe just because that's how you like to see the code.
Watch the above video to better understand the steps you can take to debug and edit post-processors to adjust your g-code output.
* After making edits to this post processor test cuts ran successfully on this machine.  The goal of the test cut to prove out cycle time with a gol of reduction.   In our example the target cycle time of 5 mins or less which was achieved on the initial test cuts after minor edits to the g-code ouput.  This was great news to achieve test cuts to prove out a post-development while hitting the cycle time optimization target, all done within 24 hour of the one on one demo.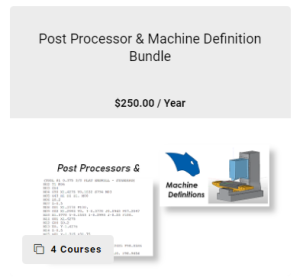 Using BobART To Trace Over Images
Controlling Posting Order for Multiple Projects  –
Using Align to Move Art Work Into Position
Sign up for our Free Weekly Training Event's  – Every Wednesday at 1 PM EST
Over the last 3 years, over 200 new features were added to the system.
Join our weekly training to learn what's New with BoCAD-CAM, BobCAM for SOLIDWORKS and BoCAM for RHINO.
Are your machines and projects getting more complicated?
Call 727-442-3554 to learn about the New BobCAD CAM.