Many people know Aaron from a popular television show, but he is a master mechanic with a great passion for innovation and manufacturing. He uses BobCAD-CAM software to help him make parts with CNC machines and because of that he reached out to learn more about how the software worked in order to achieve the best results possible for his programming needs.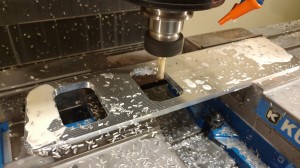 Aaron took advantage of his day of BobCAD software training to really help speed up his process from an innovative idea to a tangible part. He has no problems with dreaming up and figuring out what needs to be made, but modeling it and programming it was something he hadn't had much experience in. That's when he reached out to BobCAD-CAM for training on the software.
We spent the first couple hours training on SOLIDWORKS™, focused mainly on 2D sketches, 3D modeling and how to achieve the results he wanted using SOLIDWORKS. Then we spent some time on assemblies and how to do mates. That way he could fit parts up together and check for clearance before he ever spends a dime to make the part. Then came the BobCAD-CAM software training for creating the rest.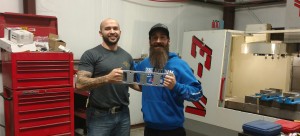 We focused on using BobCAD-CAM to program the part. For this we went through the methods of programming directly from the 3D model. We went over the benefits and methods of using the adaptive toolpaths, creating multiple setups, toolpath patterning and much more. Another big focus was how all the parameters inside of BobCAD-CAM translated over to the actual machine. So as we went through I explained how it would affect machine movement.
Aaron's main goal was to have a better understanding of how to model his ideas and take the concept all the way to a finished product. So napkin drawing, 2D sketch, 3D model, programming, G-Code, machine setups and then using the built-in wizards to set up all of the machining operations efficiently. Once we made the G-Code program, the rest was fast and easy…we just got it done!
BobCAD-CAM has provided CAD-CAM CNC Software products to the global manufacturing industry for over 30 years. BobCAD-CAM software can be found to increase CNC productivity for many applications including educational and independent hobby home use. Products include machining technology for 2, 3, 4 & 5 axis CNC milling, routing, waterjet, plasma and laser machines as well as 2 axis CNC lathe. BobCAD-CAM also provides a variety of quality training products that include regional and online training classes or private sessions tailored to specific applications. Professional certification can be acquired, as well as multi-tiered technical support solutions to their service customers.
BobCAD-CAM offers a vide variety of training solutions from training video products to 3-day seminars and on-site training classes so that manufacturers can learn to use the software in their own machine shop using their own machines. It's a great way to learn efficiently! Call the BobCAD-CAM Training department today at 877-262-2231 ext 137 and ask to speak to Gus.
Learn more about BobCAD-CAM Training HERE